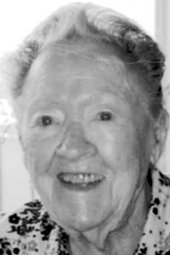 Geneve Burchby Sexson Plapp, died Wednesday, Aug. 13, 2014, a few short weeks after reaching her long sought goal of celebrating 100 years of age on July 19, 2014.  She enjoyed having her immediate family celebrate with her at Sheffield Manor, where she'd resided for the last 18 months.
She was the matriarch of the family and the last of her generation.
Geneve was born July 19, 1914 in Switz City, Ind., to Virgil D. Sexson and Bernice Carson Sexson.
Her father was a farmer and extension agent for Purdue University, in West Lafayette, Ind. 
Geneve told stories of plowing behind a team of horses and finding arrowheads and of driving her father to the various farms in their Model T, when she was well below driving age.
Education was important in her family.  Her father was a Purdue graduate as were all his siblings....all five of them, an unusual feat in the early 1900s. 
Geneve graduated with a BS in home economics in 1937 and earned a teaching certification in the early 1960s, from Washington University, in St. Louis, Mo.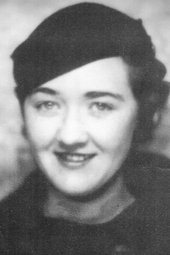 At Purdue as a member of the Pi Beta Phi Sorority, she had the privilege of meeting Amelia Earhart. Her memory of that occasion was not what Amelia Earhart had to say but that her skin was "like leather!"
She had an adventurous life beginning with her elopement with the love of her life, Paul Plapp, in the spring of 1937 after meeting at a sorority/fraternity function as seniors at Purdue University. Having met only six weeks before their marriage it was a love-filled 59 years until Paul's death in 1996.
The moving began shortly after the marriage in Pittsburgh, Pa., where son, Dennis was born in 1938 in Greenwich Village in New York City. Paul began his life career as a U.S. Army officer. Then it was onto Camp Kilmer, N.J., where daughter, Elizabeth was born in 1943. Paul was then stationed in post WWII Japan, where Geneve and children joined him for more than a year, living in occupied Japan in Yokohama.
After the Far East, the family moved to San Francisco, where son, Michael was born in 1951. Geneve then moved to West Lafayette, Ind. to be near her parents, while Paul was sent to Korea for two years during the Korean conflict. Prior to moving there, Geneve would visit family in the Midwest, driving herself with the children to her parents' in Indiana and to Paul's parents' in Illinois.
There were no interstate highways, seat belts, fast food, few motels and no AC's in the car. She would always do a "bedbug" check before checking into a motel.
She was a woman ahead of her time, coping with being alone with her children. There was little international long distance calling, no Skype for sure, and with communication only through the mail or very expensive telegrams.
When Paul returned to the states, he was assigned to the Brooklyn Army Terminal in New York City. The family lived at Fort Hamilton, a small Army post within Brooklyn for five years.
Then it was on to St. Louis, Mo., and they lived there for five years as well, before his final tour of duty at Harmon Air Force Base in Newfoundland, Canada. In 1965 Paul retired from the Army.
He, Geneve and Michael moved to Denver, Colo., where Paul had a second career with the Colorado State Highway Department. In Denver, Geneve had the home of her dreams, where she could decorate, garden and entertain. Her favorite things to do. After having been a stay at home mom, Geneve now began her 20-year career as an elementary school teacher. She retired at 70 years of age. She was a much loved and dedicated educator.
Upon her retirement, she and Paul moved to Seattle to be close to their son, Dennis, and closer to daughter, Elizabeth in eastern Washington. This is where her travels of a lifetime continued.
Her son, Michael, had settled on the Isle of Wight in England. Here Geneve and Paul would spend many months with Michael and his family as well as traveling throughout Europe. 
One of their favorite ways to travel was by commercial freighter. They eschewed the cruises for the more simple, yet elegant, travel on these ships. They could sail for weeks this way without a care for schedules as they were retired. Seeking more adventures, they traveled to Churchill, Manitoba, B.C., to see the polar bears. They would travel by tundra buggy to get up close and personal with the bears.  This began Geneve's love of polar bears.
After Paul's death in 1996, Geneve and daughter, Elizabeth would continue traveling to England. Her last trip being when she was 95. A special trip was with Elizabeth to Indiana and Colorado on a "sentimental journey."
She remained in Seattle, living on her own until the age of 98. After a bad fall and unable to still be on her own, she moved to Prosser to be close to Elizabeth. At Sheffield Manor Assisted Living she was known for her warm smile and twinkle in her beautiful blue eyes. There, she received wonderful care.
She is survived by her three children,  Elizabeth (Dan) Donaldson of Prosser, Dennis (Laurie) Plapp of Seattle and Michael (Nina) Plapp of Lake, IOW, England; and grandchildren, Tracy Johansson-Warne, David Johansson, Nina Marie Plapp and Karl Plapp; and great-grandchildren, Louis and Vincent.
Geneve was preceded in death by her parents; her brother, John Sexson; and sister, Ella Lou Disney.
As the family had just gathered for Geneve's centennial celebration, there will be no formal ceremony, but family and friends had a moment of silence on Tuesday, Aug. 19, 2014, at noon, PDT to remember Geneve.  Family members in other time zones around the world all joined in to rejoice
at her long life.
Prosser Funeral Home is in charge of arrangements.
More like this story