RELIGIOUS REFLECTIONS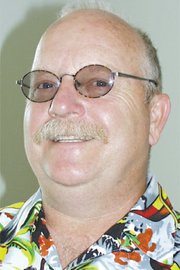 "God is our refuge and strength, A very present help in trouble" (Psalm 46:1).
What a great verse! It is said that a little boy was asked in Sunday School what God thought about lying and he said, "A lie is an abomination unto the Lord... and a very present help in time of trouble."
The boy evidently got his verses mixed up.
I've entertained myself and others with that story for more than 30 years, keeping in mind all the times I've asked God for help and not really paid much attention after He gave it to me.
Most of us have prayed "foxhole" prayers. You know, those "save me and I'll (your fantastic promise here)" prayers where we promise God the moon (that He already owns) if He'll just deliver us from something we liken to a horrible fate ranging from embarrassment to eviction, dishonor to death. We bargain with God for rescue and wind up lying to Him by not fulfilling our end of the bargain we'd invented.
First of all, for those of us who are still saying foxhole prayers, let's look at what that Psalm says in verse 10. "Cease striving and know that I am God". No need for bargains. God doesn't need anything from us and what we could do or give almost always falls completely short of value to Him or His Kingdom.
Nothing measures up to the value Jesus' suffering and life blood payment for all our offenses against God.
Let's agree with God that we can't give Him the moon, sincerely apologize and stand on that moment as the beginning of our time to be proactive in knowing and loving Him: our refuge, strength and present help in trouble.
Now for those who've quit foxhole praying, especially those with established Quiet Times with God, let's continue addressing the emptiness of prayers forgotten. Let's ask how often we leave our regular "QT's" with God sitting right where we experienced them instead of bringing them with us and rehearsing them in our minds as we attempt to live our lives moment by moment with Jesus.
One way we can leverage our QT experience is to simply write the verse or passage that meant the most during QT on a piece of paper (or cut/paste to the note app of our smartphone). Through the day, in lieu of daydreaming, face booking or letting the craziness that pops into our heads manipulate our thought patterns, glance instead at that verse or passage, remember how God spoke to us through it and build on it and/or use it. Just an idea.
Thanks, Lord and thanks, J. Veronon McGee, Navigators and Ethan.
-Rev. Jim Slinker is the Associate Pastor of Oasis Community Church in Sunnyside.