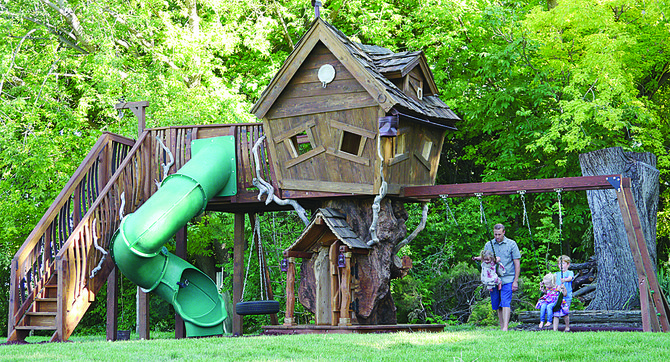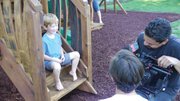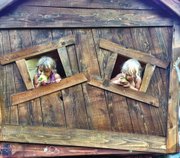 June 18 brought two new arrivals to the Brent and Erin Martin household on Sunnyside's Scoon Road.
That day the couple's fourth child was born, a son Decker, and a new tree house was completed for the family.
A national audience will get to see the big reveal Friday, Sept. 12, on Animal Planet's Redwood Kings.
"I had to leave on the first day of filming, I crashed for a bit when they left," Brent Martin said of having a TV crew in his yard and house with Erin delivering Decker a week or so early due to possible health concerns.
Even so, he says the TV crew and twin brothers – Ron and John Daniels - at the heart of Redwood Kings couldn't have been better.
The show is about twin brothers who use reclaimed redwood logs to make tree houses and play sets for kids and large commercial customers.  Their trademark is installing tree houses that have their own tree.
Martin said it was a thrill to see his children – Tanner, 6; Lilly, 4, Daisy 3 – interact with the camera crew. "They'll be the stars of the show," he smiled.
He was especially gratified for his children's excitement over the new tree house.
"They had a blast. There were really two reveals," he says. "When it arrived on the truck and after they set it up."
The tree house playground is, of course, a huge hit with the kids. Martin says it also has a special appeal for Lilly, who has Down Syndrome.
"The motion of being in a swing, that action for a child with a disability gets their juices going," Martin said. "The movement is calming and exciting at the same time. She'd let me push her for hours."
After Martin hired the Daniels to create a tree house for his children, the brothers asked the dentist if the install could serve as an episode on Redwood Kings.
The show, Redwood Kings, debuted on Animal Planet earlier this month. The episode featuring the Martin family airs Friday, Sept. 12, and will serve as the first season's finale.
'Adventurous playground'
The Martin tree house isn't just any ordinary tree house, it's a Daniels Wood Land tree house created by the Daniels brothers of Paso Robles, Calif., about halfway between Los Angeles and San Francisco.
"They're good guys. I just want to support them. I want them to succeed," Martin says of turning to the brothers to create a tree house for the family's back yard.
Taking a break from filming a Christmas episode, Ron Daniels – the more business-oriented of the twin brothers - told the Daily Sun News the Martin family seemed a good fit for the series.
"It's the quintessential nuclear family…great kids, dad's a good provider…they're as American as apple pie," said Ron. "The Martins are a great family. They don't want to spoil their kids, but give them an adventurous playground that provides a context to socialize."
The Daniels brothers, who have a cousin in Pasco, both enjoyed the Sunnyside area.
"There's a lot of farming, like where we're from," said Ron. "We liked the small town atmosphere, kind of like Mayberry."
About the tree house with its own tree, John explains the idea clicked during his early work as a chainsaw artist.
"I found a lot of logs rotten in the middle that would be cut up for firewood," he says. "I thought let's take the log, clean up the middle and use it."
The result is abandoned Redwood tree sections bound for waste or firewood that instead form the base of magical tree houses…with creations ranging from pirate ships to castle designs. The hollowed out wood sections are used as entry ways to climb up into the tree house.
'We bring the tree'
The treehouses are made from a combination of wood found in forests and driftwood gleaned from the ocean.
Every creation is unique, and the refurbished materials in John's creative hands take on a life and character of their own.
"It's hard to quantify this energy….it invokes a spirit and energy and it's because of the style and material we use," says Ron. "It's not a plastic play set from the big box store…we go out in the hills and find a big tree and save it from firewood cutters and find driftwood. Each piece tells its own story."
There's something universal about a tree house, he adds.
"It doesn't matter who you are or where you live, everyone likes a tree house," Ron said. "You buy the house, we bring the tree."
Daniels Wood Land tree houses have been shipped as far away as Saudi Arabia, a land certainly bereft of trees for tree houses.
Getting kids outside
The brothers credit their upbringing for their success with the wood creations.
"We grew up on a ranch and our parents taught us to follow our dreams…do what you love to do and you'll never work a day in your life," says Ron.
"We couldn't watch TV, we had to work outside to find something to do," he continued. "One of our pastimes was to go into the junk yard at the back of the ranch and build things. At 10 years old we were driving Jeep. We built playhouses and forts to stay busy."
The brothers are still creative, and still kids at heart.
"There's nothing more touching than seeing children, like the Martins, laughing, enjoying something you built," Ron said.
That notion of getting kids away from the TV is what drove Martin to get the tree house installed.
"I don't want them to sit inside and watch television or play video games," he sighs.
Pointing to the wild and wonderful tree house and play set, Martin adds, "I just wanted to give them something outside, to give them a fun and safe environment to play. It's going to be an experience they'll have for years and years."