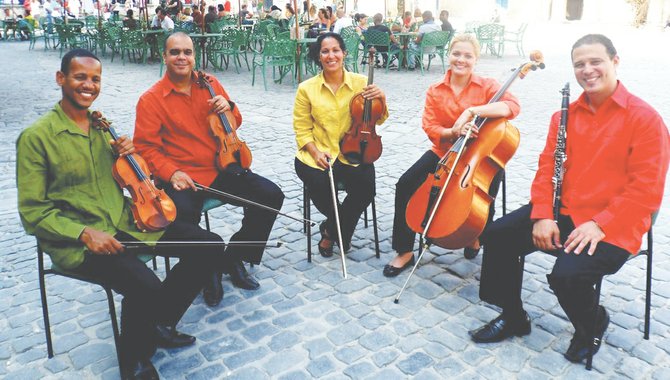 Five musicians who hail from Cuba will perform the first of five concerts that make up the 2014-15 Lower Valley Community Concert Series.
The series opening concert is slated for Saturday, Sept. 13, on the Sunnyside High School auditorium stage. The curtain is scheduled to rise at 7:30 p.m. that evening.
The Sept. 13 performers, a quintet from the ranks of the National Symphony Orchestra of Cuba, will perform a program of classic works, Cuban compositions and other popular music.
The five musicians travel and perform under the name of Habaneros. The group is comprised of award-winning instrumentalists Alden Ortuno Cabezas, Carlos Suarez Morejon, Julio Cesar Garcia Dominguez, Idalmis Ulloa Besada and Suaima Ramos Torres.
Cabezas plays the clarinet, Morejon and Dominguez the violin, Besada the viola and Torres the cello.
Each member of the group has enjoyed tremendous success, and have performed as soloists, in chamber ensembles and with orchestras in Russia, Switzerland, France, Spain, North America, Central America and South America.
In addition to their on-stage achievements, the members of Habaneros are active as teachers and composers.
The 2014-15 concert season marks the American debut for the group.
Tickets for just the Sept. 13 concert, available by calling 839-5222 and on-line at www.lowervalleyconcerts.org, are priced at $30 for adults and $5 for youngsters.
Tickets to all five of the concerts in the 2014-15 Lower Valley series are priced at $55 for adults, $125 for families of four and $15 for students.
As part of a reciprocal agreement, Lower Valley Community Concert Series season ticket holders may attend concerts at no additional cost in the Tri-Cities, Wenatchee, Moses Lake and Pendleton, Ore. as space is available in those concert halls.