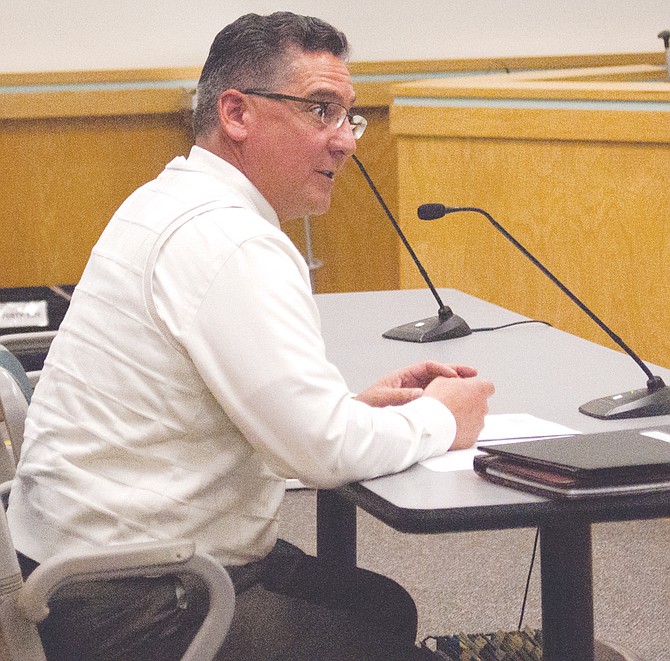 Edible marijuana, licenses, revenue sharing and the impact of the legal market for recreational marijuana on the black market were some of the topics the Sunnyside City Council discussed with Liquor Control Board Director Rick Garza at Monday night's council workshop meeting.
The Liquor Control Board is in charge of implementing Initiative 502, the legalization of recreational marijuana, in the state. Garza told the council the board has taken a conservative approach, limiting retail operations to 334 stores and starting slow with production.
Starting the question and answer session was Councilman Francisco Guerrero, who asked what the best practices for cities are on allowing stores.
Garza answered with information on what the liquor control board has done, including adding 22 new officers, doing inspections on every retail location and running criminal background checks on potential owners. He said the process mirrors the state's liquor laws and seems to have been effective so far.
"I'm not saying that in the future there won't be problems," said Garza. "But when we look at most of the retail applicants that we have today, we don't see a whole lot of problems."
He also noted that retailers are supposed to check for certain things when people come into locations to purchase marijuana, including age and whether or not the customer is already under the influence.
Garza also said all stock is tracked daily by producers, processors and retailers, and that information has to be entered in a daily report back to the liquor control board.
He said the state has 60 retail locations currently and 22 officers to monitor them, which is a good ratio.
A concern of multiple council members is the problem with marijuana-infused edibles being made available to children.
Garza said the liquor control board has strict guidelines on edible marijuana products and that most of the products found in schools are from the medical marijuana or black markets. He said legal recreational marijuana cannot be appealing to children and cannot look like existing candy.
The board also requires all edibles to be sold in resealable childproof packing. He said most of the poison reports for marijuana are about toddlers who find the edibles sitting out in their homes.
Garza also said the problem of vapor cigarettes is being addressed by the legislature, noting that cartridges come in many flavors that are appealing to children.
Councilman Dean Broersma asked if there's been an impact on the illegal market yet. Garza said it's impossible to tell because there are no solid stats. Even the medical marijuana market is not properly regulated, so statistics are not available.
"I do think there's been a dent (in the black market)," Garza said. "I think it's very small."
He noted the black market is huge, and pointed out that his own children in high school and college have easy access to illegal marijuana if they want it. Garza said he believes that as the price comes down on legal marijuana, the black market will eventually feel the pinch.
He also compared the start of the marijuana industry to the start of the wine industry, pointing out that it started very small here and eventually grew.
On a related topic, Garza said he thinks more people are being pulled over and tested for marijuana intoxication now. He said that's due to the fact that the law put a limit on how much THC can be in the bloodstream, making it slightly easier for officers to determine what qualifies as "impaired."
The council was also concerned about licenses. Councilman Spencer Martin asked how many licenses Union Gap has, noting that Union Gap recently opened its third store.
Garza said that people who have applied for licenses in the county at-large have been able to open stores in Union Gap, which was not granted any retail licenses on its own. He wasn't sure if that would happen in Sunnyside if the council allows retail locations.
Asked whether or not it is legal for the city to ban retail outlets, Garza cited the attorney general's opinion and the case involving the city of Fife. Both indicate that cities are allowed to ban marijuana retail stores because the law itself is silent on the subject.
However, Garza said it's just the opposite for the liquor control board. They are required by the law to issue licenses.
"It's up to the businesses to work with the cities and counties," said Garza.
The revenue from legal marijuana was also brought up. Garza said the state general fund will get the majority of the money, but there will be money for local communities and money for rehabilitation programs. That money will start flowing to communities in January.
Garza had no idea if communities that have banned marijuana sales will receive any portion of the revenue.
The council also asked about labeling requirements for marijuana products.
Garza said all products are required to list the amount of THC in the product. Edibles have THC limits to prevent high dose issues. All other items are required to simply have the amount of THC listed.
Garza said the state has put together a consumer guide to help people understand how to consume and how to be careful with marijuana. He said all edibles come with warnings because the impact of the drug does not take immediate effect with edible marijuana.
Garza also spoke about the problem of children thinking marijuana is acceptable because it's legal for adults. He said part of the law requires the state to track the effects of legalization closely to determine if it is actually good public policy.
Another topic was whether or not medical marijuana will be merged with the recreational market. Garza said that's up to the legislature, but also pointed out that the tightly regulated recreational market means that consumers of recreational marijuana have a much better idea of what's in their product than consumers of medical marijuana.
He doubted the medical marijuana community would welcome regulation, however, and said there are more than 300 medical marijuana dispensaries in Seattle alone. He said it would be difficult to take that away now that it has been established.
He said the medical marijuana market has made regulating recreational marijuana more difficult, thanks to it selling edibles in forms that are banned from the recreational market.
Deputy Mayor Theresa Hancock asked what the city needs to consider as it moves forward. Garza said everyone is trying to deal with the law.
"You're struggling with this just like everybody is struggling with this," Garza said. "Even cities and counties that have allowed it are struggling with what's the impact going to be over time and concerns over it.
"I can give you specifics about the regulations we've created to try to strictly regulate those that hold licenses, but I can't tell you what the future's going to look like," he said.
Garza also recommended visiting lcb.wa.gov/marijuana/I-502 for complete information on the law, how it is being implemented and answers to common questions.