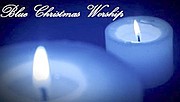 Feeling less than joyful this holiday season?
If so, three Sunnyside churches are banding together to offer a special worship service this coming Sunday, Dec. 21, at 6 p.m.
Called a Blue Christmas/Longest Night Worship Service, it acknowledges that some people feel sorrow during these long, dark winter nights.

The service will be held at Our Saviour's Evangelical Lutheran Church, 1106 Taylor St., in Sunnyside. It is a joint outreach of Our Saviour's, Holy Trinity Episcopal Church and Sunnyside United Methodist Church.
"Memories of past experiences and the pain of present experiences and situations can become overwhelming," says Pastor Pat Beeman of Sunnyside United Methodist Church.
"For some, Christmas Day is the most difficult. For others, it is Christmas Eve or New Year's Eve, or the beginning of another lonely year."
Beeman adds, "Together we will listen and pray. We will meditate upon the pain and anguish you may bring. We will offer our pain to the Christ child."
The blue Christmas service will include singing and the lighting of candles.