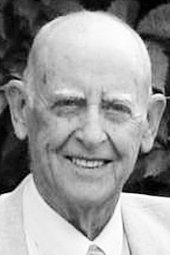 Dean Stewart Thornock, 89, a resident of Mabton and longtime Grandview resident, passed away Thursday, Jan. 30, 2014 at his home surrounded by his family. 
He was born May 19, 1924 in Salem, Idaho to Heber and Wanda Thornock.
Dean served in WWII after enlisting in the C.B.'s (the Construction Battalion) of the U.S. Navy, building air strips in the Philippines. 
He was married April 6, 1944 to LuJean Robinson. He moved to Grandview in 1947 with his wife and two children and their 12' trailer with only $3.14 in his pocket.
He was a barber in Grandview for more than 30 years. At the same time he ran the movie projector in the Colonial Theatre in Grandview. He started Rainsoft water (later renamed Rainwater) in 1965. 
Dean was a faithful member of the Church of Jesus Christ of Latter-day Saints.
Dean is survived by his wife of 69 years; six children, Glory (Lee) Gifford, Tom (Lynn) Thornock, Benadette (Ja) Eggett, Dave (Kathy) Thornock, Mike (Julie) Thornock, and Todd (Sandy) Thornock; as well as 32 grandchildren; 102 great-grandchildren; and five great-great-grandchildren.
Funeral services will be held Saturday, Feb. 8, 2014, at 10:30 a.m. at Prosser Church of Jesus Christ of Latter-day Saints Chapel, 1835 Highland Drive, with internment to follow at Sunnyside Cemetery.
Prosser Funeral Home is in charge of arrangements.
More like this story