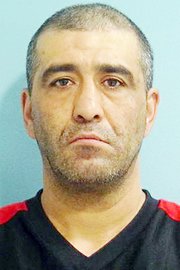 A high speed chase, which began in the 2600 block of East Lincoln Avenue Sunday night, resulted with the driver of the vehicle fleeing on foot in the Luther Road area, west of Sunnyside.
The driver of the vehicle, who has been identified as Michael T. Serna, 45, is being sought on multiple warrants for his arrest, according to Sunnyside police.
Anyone with information on the whereabouts of Serna is asked to contact the Sunnyside Police Department at 836-6200.
The vehicle chase began in the Wal-Mart parking lot after police received a report of a man spray painting a yellow vehicle black, at approximately 6:30 p.m. last night.
After running a check on the alleged suspect's name, police learned there were multiple arrests issued for his arrest.
When advised to shut off his vehicle's motor, the driver fled. A pursuit ensued lasting 10 minutes, with speeds reaching up to 80 mph on I-82. The vehicle was spiked on I-82, near exit 63 and the pursuit ended on I-82 near the intersection of Gap Road and Luther Road. The suspect fled on foot. The city's K9 unit was called in to track the suspect, but was unable to locate the man.
Sunnyside police were assisted in the pursuit and search for the suspect by the Washington State Patrol and Yakima County Sheriff's Office.