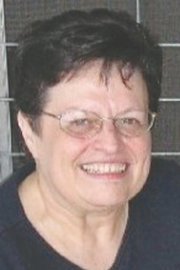 The pastor's wife called her: "Sue's mother-in-law passed away. Her husband and his family do not attend church, and I wondered if you and your husband would be willing to just attend the funeral to support Sue."
"Sure," my friend said. Even though they did not know the deceased, they would be there for Sue.
They arrived at the church, and went to find a seat about halfway down the center aisle on the left side of the sanctuary. He went into the pew first and she followed. Sue saw them, and came to talk a moment, thanking them for coming. At the other end of the pew, an elderly woman was seated, dabbing her eyes with a handkerchief.
Soft music played as they chatted a bit with Sue. The open casket was in front of the church, and the husband was saying things like, "It's fascinating isn't it, that we are all just like a shell that houses a spirit," and other philosophical insights.
He was deaf in his right ear, and his wife sat on his right side. His deep bass voice carried as he spoke, louder than he knew. She put her arm on his shoulder and gently said, "This would be a good time for you to whisper." It was like whispering into her armpit!
She took his face in her hands and turned it toward her, so his good ear was available. She repeated her comment, to which he loudly replied, "I AM WHISPERING!"
My friends are funny people, and laughter is often on their lips. This was one of those inappropriate times. They started to chuckle, and tried to stop laughing – to no avail. When you try to contain a laugh, it sometimes comes out your eyes as tears and flows through your entire body. The more they tried to suppress it, the more they laughed, shaking the whole row.

They glanced down at the elderly woman on the other end of the pew. She was now crying harder. My friend thought at first she might be laughing with them, but no. Sue informed them that the woman was the sister of the deceased.
Have you ever had a time when laughter escaped when you least expected or intended? How do you deal with the embarrassment? How do you explain yourself?
‑ Karen Helsel, a resident of Sunnyside, is a certified mental health counselor. She can be reached at kmphelsel@gmail.com, and will appreciate your feedback and humor sightings.
More like this story