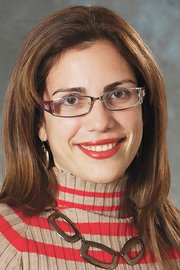 Popularly said among youth today is the acronym "YOLO," or "You Only Live Once."
Meant as a positive affirmation to motivate people to live life to the fullest and dream big, the mentality of "just this once" when referring to experimenting with drugs and alcohol can lead to detrimental effects to your mind and body, especially in youth.
Drug and alcohol abuse among teens is nothing new. Teenage drinking and partying have been glorified in movies and music for years.
Today, social media platforms like Facebook, Instagram and SnapChat give teens an opportunity to post, snap and send pictures to friends about last weekend's party - all in the name of YOLO.
For this week's National Drug Facts Week for youth, that is the point I want to make. YOLO: You only live once.
Teens, the decisions you make today will affect the actions of tomorrow and some decisions you make today will change you for a lifetime.
As a pediatrician, I have a passion for youth and believe that the decisions that you make today can have an impact in the world. I have also seen how experimenting with drugs and alcohol can destroy lives.
An important note to remember is that the human brain fully develops at age 25, making the adolescent years a crucial time for optimal brain growth. During this time, teenagers' brains are still growing and learning critical thinking skills that every adult needs to know in order to properly function and succeed. Skills, such as setting priorities, focusing attention, controlling emotional and physical impulses, processing abstract information, creating strategies and understanding social interaction cues and codes are all being developed during this stage.
As vital as these skills are to one's health, it is understandable why we spend so much time in speaking against drug and alcohol abuse. Due to this crucial stage in brain development, using drugs can completely damage fragile neural connections and alter perceptions.
Teenagers, you can feel empowered to know that during this crucial time of brain growth, now is your time to "only live once," to pursue your dreams, set goals and establish healthy life patterns that will lead you to future success.
From a health care standpoint, drugs kill your mind and body. Habits developed at a young age can lead to struggles with addiction for the rest of a person's life. Drug addiction can start young. Youth who struggle with anxiety, depression or other mental illnesses often times turn to drugs and alcohol to cope with daily struggles.
Drug use in the home, or family, work and school problems can lead to drug experimentation and use. The mentality of just trying it "once" can be fatal for some.
According to the National Institute on Drug Abuse website, research shows that there are people who are prone to certain addictions - that even trying drugs once is like playing a game of "Russian Roulette" with your life.
Teens, now is your time to choose to "live only once" and choose a life full of promise and success.
If you are struggling with an addiction or know of someone who is struggling, there are ways to receive the help that you need. Choose to live a drug-free life today and talk with your doctor or health care provider.
‑ Ana Garcia, MD, is a pediatrician at Sunnyside Pediatrics, located at 812 Miller Ave., Sunnyside