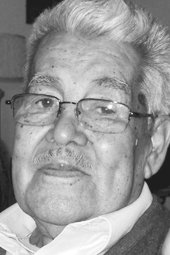 Alejandro Carrizales Molina, 83, of Mabton, our beloved father, husband, grandfather, great-grandfather, brother and friend, passed away on Friday, Jan. 31, 2014, surrounded by his loved ones.
He was born March 2, 1931 in Dr. Arroyo Nuevo Leon, Mexico to Jeronimo and Maria de la luz Carrizales.
Dad ventured to this country as a young man on an adventure, to work and to chase after the woman he fell in love with back home. She was the older woman that had also ventured out on her own quite a while before he did. Well, he found her in Texas and married Gregoria Vasquez on Sept. 17, 1959. They settled in Yakima County, and for the next 54 years they managed to create a hardworking, loving and supportive home for their three children.
In his younger years, he was a professional butcher before coming to this country and settling into a lifelong career as a worker and lover of the land, the work that helped support and shape his children's lives.
Dad was a wonderful father and mentor. Those that were fortunate enough to know dad knew that he was kind, generous and always thinking of others before himself. Dad was passionate and proud of his life, his home and his family. For instance, one of the proudest days in his life was the day he took the oath as a U.S. citizen many decades ago. He was so proud to be able to cast a vote, never missing one as he felt it was a
privilege.
Dad traveled back and forth between Texas and Washington state yearly for decades without using a map. He knew his state routes and highways like the back of his hand.
He liked nothing better than to stop by his children or grandchildren's homes in the wee hours of the morning and do a little yard work or fix a piece of fence and then leave without waking anyone up. We could tell dad had been there because things always looked a little nicer.
He always had a ready piece of gum to coax great-grandchildren into doing whatever he wanted or a hug.
He gave to every charity that asked. He never turned down a grandchild or child with a fundraiser request.
Every Halloween, dad made individual candy bags for his grandbabies, young and old (with normal-sized candies of course, miniatures would not do).
We will miss him dearly, love him forever and think of him when it's time to prune a tree, dig a post or just wander in and have a cup of coffee or a pop.
Dad is survived by his wife, Gregoria Carrizales of Mabton; one brother, Santago Carrizales Molina of Monterrey, Mexico; one sister, Maria de la Luz Carrizales Molina of Monterrey, Mexico; his children, Grace (Scott) Sexton of Mabton, Nancy (Bob Gaston) Benavidez of Grandview, Alex (Sandy) Carrizales of Zillah; eight grandchildren; and 10 great-grandchildren.
He was preceded in death by his parents, Jeronimo and Maria de la Luz; and one sister, Ana Maria.
At his request no formal services will be held.
Those wishing to sign Alejandro's on-line memorial book may do so at www.funeralhomesmith.com.
Smith Funeral Homes Ltd. and Crematory in Sunnyside is in charge of arrangements.
More like this story