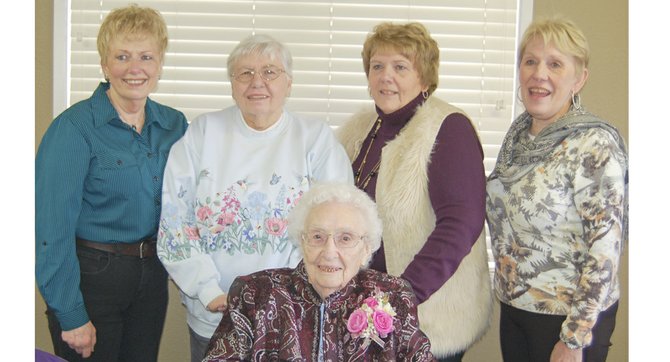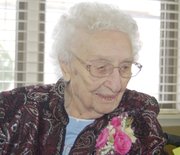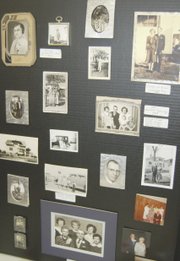 Since Evelyn Nieffer was born in 1914, there have been 17 U.S. Presidents, prohibition of alcohol came and went, vaccines were discovered, women earned the right to vote and electric stoves took the place of wood stoves.
Born in New Holland, South Dakota, Nieffer eventually moved to Sunnyside with her husband and four children. She made Sunnyside her home, to the point where her daughter Linda Boren said she looked after everyone living on their block of Decatur Avenue.
"She helped every senior, cleaned their houses, got their medicine, did their laundry," said Boren. "She likes to take care of others."
After graduating from high school, Nieffer went to nursing school. She said she liked to run, and on weekends she would run the 14 miles to home to be with her family.
"Sometimes I got a ride," she said. "But it was at night. Sometimes I wouldn't get home until very late."
During nursing school she worked as a nanny. Her daughter, Carol Gilbert, said she met iconic American singer Kate Smith while on the job.
After finishing nursing school Nieffer went to work for a doctor, but discovered a big problem.
"I couldn't stand the ether," she said. "I got sicker than the patients."
As a result, she moved into home nursing and became a caregiver. She handled as many as eight patients at once.
She married her husband, Aaron, in 1940 and the pair moved around a bit before settling down in Sunnyside in 1950 with their four daughters. Her husband worked as an auxiliary policeman for the Sunnyside Police Department and also worked for the Yakima County highway department.
Her daughters say she's very creative and loves crafts. She was still sewing until last year, when she finally gave away her sewing machine.
"She made our clothes," said Boren. "She would fix hems and make items for people. She took apart old clothing to reuse the fabric. She loved to sew."
Boren said her mother loves crafts as well.
"She loves to make something out of nothing," she said. "She passed that on to all her daughters. She canned, made her own jams and picked her own fruit."
Nieffer is also a rockhound, and would paint bugs on the rocks she collected.
Boren said her mother always wanted to learn how to ride a bicycle, but couldn't keep her balance. Last year she finally ticked that item off her bucket list when she rode a bicycle during rehab.
"She's pretty sharp," said Boren. "She said, 'it was only a stationary bike' but she was still proud that she'd gotten to do it."
Nieffer's parents were from Holland originally. Her father was a stowaway who skipped immigration. He wasn't caught until she was in third grade and he'd already had six children.
"He had to learn English to become a citizen," said Nieffer.
Her mother learned how to speak English from the Sears catalog. Nieffer is still fluent in Dutch, but she didn't pass the skill along to her children.
She did pass on the gift of laughter to her children. When Nieffer was a child, she said she would get into trouble for laughing at the dinner table. Her own daughters had the same trait.
"We'd get in trouble for laughing," said Gilbert.
Nieffer also enjoyed pranks and had fun dressing up at Halloween. She said she tried to keep busy.
"If you're busy you won't get into trouble," she said.
She said she's done a lot of things in her life. Her four daughters have given her nine grandchildren and 12 great-grandchildren. She and her husband also traveled around the United States by RV when he retired.
Nieffer's daughters said she loved to dance, but only if she could lead.
"She would dance with chairs and brooms," said Gilbert. "My dad couldn't dance with her because she insisted on leading."
She lived to help other people, taking in folks without a place to stay.
"My house was always full," said Nieffer. "My kids slept on the floor a lot!"
For her birthday her family threw her a party at Sun Terrace Assisted Living. She had known there would be an event, but not that so many people would show up for it. Despite the crowds, Nieffer was very down-to-earth about reaching her 100th birthday.
"It's just a day," she said. "You don't realize that you're getting old. You just keep busy."