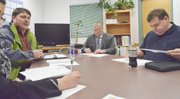 There are a lot of changes happening in Sunnyside...that's the good news.
The bad news is that motorists will soon need to find alternative routes through downtown.
That's because the downtown improvement project tops the list of construction that will be taking place this year.
Sunnyside Public Works Supervisor Shane Fisher last night told the Public Works Subcommittee construction may begin as early as March 17.
"We won't know the exact date until the bids are accepted," he said.
The city has advertised for bids on the project and anticipates a decision in the next couple of weeks. The deadline for accepting bids is Wednesday, Feb. 19.
All licensing, bonding and permits will need to be confirmed, but Fisher believes the first phase of the downtown improvements can begin next month. He said that phase involves the 500 block of South Sixth Street.
"I think we are going to have a lot of bidders…these downtown projects are very attractive…they are long and tedious," said Fisher.
He said the 500 block of South Sixth Street must be the first section of downtown to receive the improvements because of a stormwater pre-treatment upgrade that will connect to the other sections of the project.
The city of Sunnyside, said Fisher, is seeking ways to impact downtown businesses as little as possible. There will be signage to alert patrons that businesses are open.
Public Works Subcommittee Chairperson Theresa Hancock asked that the status of all projects involving the downtown upgrade continue to remain at the top of the agenda for subcommittee meetings.
"We need to let the public know as much as possible, keeping them informed," she said.
Fisher said that is also the city's priority.
When asked when the downtown improvements might be completed, he told the subcommittee it is tentatively scheduled for October.
Fisher said the timelines are important because hot-mix paving must be completed before the weather is too cold.
Also to be completed is the city's Sixth Street improvements from Decatur Avenue to North Avenue.
Fisher told the subcommittee that extends the improvements from the downtown corridor.
"The hope is to draw people downtown," he said, stating the $3 million Sixth Street project is being funded via Surface Transportation Program dollars.
"There's more money in this project than the downtown project," said Fisher.
The Sixth Street project is expected to be completed in 2015.
The city also has plans to improve the intersection at Yakima Valley Highway and 16th Street, as well as complete sidewalks and enclose canals on 16th Street.
There is also a water and sewer rate analysis underway. The first phase of that analysis has been completed by Huibregtse Louman Associates, according to Fisher.
The Public Works Subcommittee will next meet on Monday, March 10, at 5:30 p.m. in the Sunnyside Law & Justice Center conference room.