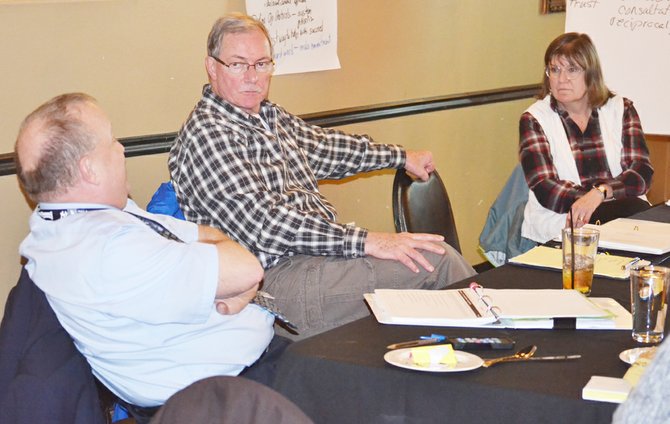 Quarterly school board retreats and superintendent evaluations twice each year are changes the Sunnyside School Board considered during a dinner retreat at Bon Vino's last night.
While not taking action on any of its agenda items Monday night, the board used the four-hour session to first talk about roles and responsibilities, then to review how it evaluates Superintendent Dr. Rick Cole's job performance.
Currently, Cole's evaluation takes place every January. The change under consideration would add a review each June, as well.
Board members Rocky Simmons and Michelle Perry said they aren't satisfied with the current set-up.
Simmons noted that a once-a-year review in January makes it difficult for a thorough evaluation when new board members take office that same month, as was the case just a few weeks ago.
Perry said she feels since teachers are evaluated throughout the year, so too should the superintendent.
Cole said the reason for having a review in January is because it gives superintendents time to seek employment elsewhere if their contract isn't renewed by the board, so as to avoid potential "lame duck" issues with staff.
If the board does move to a January/June evaluation system it was noted that Cole's contract would have to be restructured because it calls for only the January review.
Last night's discussion wasn't just about the timing of Cole's review, but also its substance.
The district is looking at a pilot project that evaluates superintendents on a host of issues, ranging from vision for the district to ethics.
That would apparently mean a more in depth review than the board currently administers.
"Our superintendent evaluation doesn't do the main things," said Perry. "It's not setting goals for student achievement or district leadership. There's no discussion on how we are held accountable to the community."
Cole noted the current evaluation process is transparent, as copies of his annual reviews are provided to the media.
Last night was the first of two days for the retreat. The second part will be Saturday, March 1, at Bon Vino's from 8 a.m. to 4 p.m.