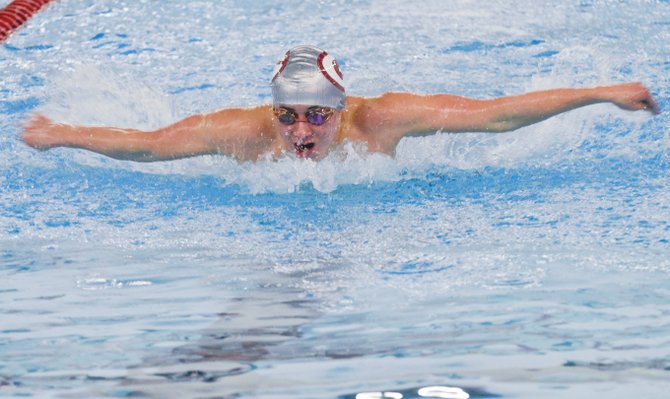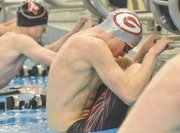 ELLENSBURG – No members of the Grandview High School boys swim team earned outright berths to the State swim meet at this past weekend's 2A District 5/6/7 competition.
But, according to GHS Coach Patrick Elerding, several of the Greyhounds are awaiting word on whether or not they'll be offered wild card slots at the State meet, to be held in Federal Way on Feb. 21-22.
Individually, both Micah Binfet and Tavian Valenzuela have a chance at moving on to State in the 100-yard breaststroke.
At the District meet on the CWU campus in Ellensburg, Valenzuela placed fifth in the 100-breast, and Binfet was nipping on his Grandview teammate's heels in sixth place.
Automatic berths to State were only afforded to the top three finishers in the individual competitions at District.
Elerding said both Valenzuela and Binfet set personal bests in the 100-breast at District.
In the 100-breaststroke finals, Valenzuela clocked the fifth fastest time – 1:09.10. Binfet was sixth in 1:09.47.
The 100-breast winner proved to be Prosser's William Burgett, who swam to a clocking of 1:02.45.
Elerding said it's also possible that Grandview's 200-yard medley and freestyle relay squads will be offered wild card berths to State based on their District times.
In the 200-medley relay, the GHS foursome of Binfet, Valenzuela, Brendon Lynch and David Wascenske managed a clocking of 1:59.76, a team record. That was good for eighth-place honors at District. The winning time, set by a squad from Naches, was 1:46.44.
In the 200-yard freestyle relay, the same Grandview foursome set a team record, as well. The four swimmers clocked a time of 1:42.83, sixth fastest in the finals. The winning time of 1:38.08 was posted by a squad from Pullman.
Team-wise this past weekend, the Greyhounds finished in the middle of the pack at the 12-school District meet. Grandview amassed 127 points, seventh best. The District team title went to the West Valley Rams with 430 points. Pullman was second with a team score of 330.
DISTRICT 5/6/7
200-YARD MEDLEY RELAY
1st-Naches 1:46.44, 8th-Grandview 1:59.76
200-YARD FREESTYLE
1st-Trevor Babcock (Cheney) 1:54.53, 16th-Sebastian Raucamp (Grandview) 2:25.77
200-YARD INDIVIDUAL MEDLEY
1st-Scott Nadeau (Cheney) 2:08.84, 10th-Micah Binfet (Grandview) 2:24.98, 14th-Brendon Lynch (Grandview) 2:34.50
50-YARD FREESTYLE
1st-William Burgett (Prosser) 22.17, 11th-Tavian Valenzuela (Grandview) 25.26
ONE-METER DIVING
1st-David Whitmore (Naches) 356.70
100-YARD BUTTERFLY
1st-Riley Beaumont (Quincy) 56.22, 10th-David Wascenske (Grandview) 1:05.11
100-YARD FREESTYLE
1st-Kian Hausken (West Valley) 49.67
500-YARD FREESTYLE
1st-Bennett McInturff (Pullman) 5:07.03
200-YARD FREESTYLE RELAY
1st-Pullman 1:38.08, 6th-Grandview 1:42.83
100-YARD BACKSTROKE
1st-Kian Hausken (West Valley) 54.50, 13th-Brendon Lynch (Grand-view) 1:12.20
100-YARD BREASTSTROKE
1st-William Burgett (Prosser) 1:02.45, 5th-Tavian Valenzuela (Grandview) 1:09.10, 6th-Micah Binfet (Grandview) 1:09.47, 15th-Sebastian Raucamp (Grandview) 1:18.48
400-YARD FREESTYLE RELAY
1st-Naches 3:28.93, 8th-Grandview 4:43.36