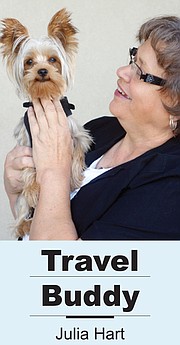 When interviewing foreign exchange students I always hope that I do not come off as the "Ugly American."
Trying to ask the limited English-speaking students questions with my total lack of foreign language skills often results in blank stares as I attempt to reword my inquiries into simpler terms.
I'm not always successful. Nonetheless, I enjoy the interaction with our community's many young international visitors.
In recent years I've had the opportunity to welcome a number of international teenagers into my home thanks to the International Lions Club Youth Exchange Program.
Even though my guests, who up until recently have all been from Japan, and I still have a hard time communicating, we always manage to find some common ground while getting acquainted with my menagerie of pets.
The Hart pets always seem to put my visitors at ease, and we are normally able to enjoy our visits in relative calm. At least that has been the case until this year.
What I have discovered is that many of my Japanese visitors are familiar with the concept of house pets. But, my current Chinese exchange student has found cats and dogs to be something of an oddity.
My first Youth Exchange Program visitor, Momoko, who lived in the suburbs of Tokyo, had small dogs at home. She fell in love with a puppy I was training for a family member. Momoko delighted in giving him treats. Her favorite command was "...no bites Winston."
My next visitor, Shohei, loved playing with Georgia, our affectionate beggar. They got along well, because whenever Shohei stopped to rest, Georgia got a good rub and Shohei, who hailed from Fukuoka, fell immediately asleep.
Last summer, our foreign exchange visitor, Yukiko, was a nice, quiet young lady from Kyoto. Suffering from a bit of jet jag, she was rudely greeted by my insanely noisy canine Buddy.
Buddy is not necessarily the best example of a well-mannered American dog. He tends to yap a little too much and run in circles. He tended to annoy Yukiko rather than amuse her. Still, by the end of her two-week stay, I could tell Buddy and Yukiko had reached a kind of peaceful understanding.
Enter my current year-long exchange student, Ximu Wei, a young man from China who admittedly has accidently killed most of his pets.
I should note that his pets have usually been rather fragile lizards or turtles. He had never had a cat or a dog as a pet. Of course, he lives in a city of 25 million people and on the 19th floor of a high rise building in the middle of Yancheng, China.

Ximu, or Woody as he likes to be called, and Buddy took an instant dislike to each other. Buddy's tendency is to run at people while barking, which scared Woody for the first few weeks.
Once I convinced Woody not to stomp his feet at Buddy and to give him an occasional doggie treat, things got a little better. But it was still a love-hate relationship.
Lately, since Woody has adopted a stray cat he calls Pearl, he has become a little more tolerant of Buddy's antics. He has even allowed himself to pet Buddy, which has calmed my hyper dog and equally noisy hyper visitor a little.
I am not sure Buddy has become more tolerant of Woody. He still tends to attack Woody on occasion. I'm now worried Woody will return home at the end of his American stay to tell tales of the "Ugly American" dog named Buddy.
I hope to have another Lions Club Youth Exchange Program visitor next summer once Woody returns home. I just hope I can convince Buddy to be a better ambassador of goodwill by then. I don't want him to give all American pets a bad name.
We'll have to wait and see.