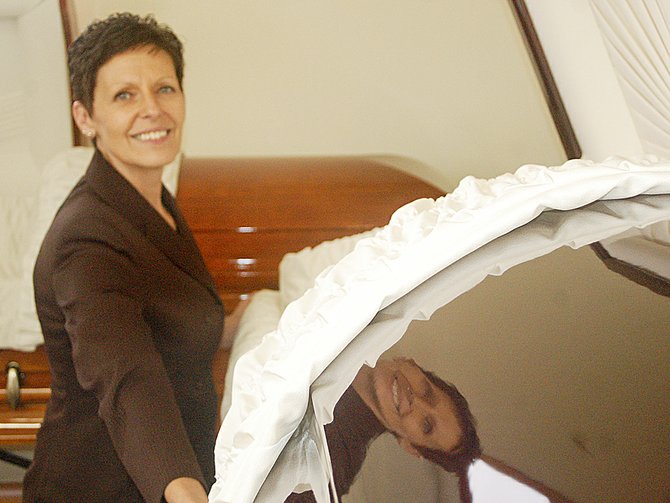 WORKING STIFF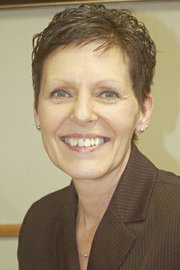 Despite the often asked question about working with those who have passed on, Teresa Smith says she enjoys her career as an intern funeral director.
Besides, as she points out, she works with the living.

Smith, who has been employed by Valley Hills Funeral Home and Crematory in Sunnyside for nearly five years, believes her job is to be a sounding board for the families of the deceased.
"The families grieve in all different ways. Sometimes they just need someone to listen and a shoulder to lean on," Smith said.
Working at a funeral home is not the work Smith set out to do. She has held many types of jobs, including working with an international food processing company for 13 years. She even took classes to become a pharmaceutical technician, but it was a back yard conversation with her neighbor that led to her current occupation.
"I'm neighbors with Shirley Martin, who was a longtime Valley Hills employee in their North Avenue location. She was retiring and suggested I might apply for her position," Smith explained.
Smith said Martin thought she'd be perfect for the job. It took a little convincing for Smith to submit her application, but she is very happy she did.
She now works for Valley Hills Funeral Home Director David Humphreys at its new facility on South 16th Street. She has also worked at the company's other chapels located in Zillah and in Yakima.
"We're a small company and very close knit group," she said.
"I am now working on earning my funeral director license," Smith said.
Smith said her current duties range from meeting with the families to helping write the death notices and obituaries, which appear in the area newspapers. She also helps families with other arrangements, such as ordering flowers for the services.
"I am here to offer the families options for memorial services to graveside services. Just as people grieve in different ways, not everyone want to do things the same way," she noted.

Smith said in some cases the families just don't have the resources to begin planning a memorial service for their loved one.
"And sometimes they are just looking for an unbiased person to just listen," she added.

Originally from Siletz, Ore., Smith has lived in the Yakima Valley for the past 34 years.
"I came to visit friends in the area and decided to make this my home. I like the people and the changing of the seasons," she added.
Smith raised her three children in the Yakima Valley and has 14 grandchildren to keep her busy. "They range from 1 to 15 years of age," she said.
Perhaps her desire to help others comes from being a member of a large family. Smith, who claims she has never met a stranger, says she likes helping people. She does admit that being from a large family has given her the ability to understand the needs of others, a quality Smith finds very useful in her line of business.
"It isn't always sympathy that people need at the passing of a loved one," she said.
For Smith, that means just listening and knowing what to do next.
More like this story