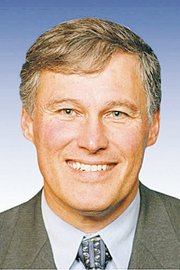 OLYMPIA – In a move that surprised state legislators, Gov. Jay Inslee held a press conference yesterday to announce he is imposing a moratorium on carrying out the death penalty in Washington state.
Inslee said Tuesday's decision follows months of review and discussions with several groups, including prosecutors and family members of homicide victims.
"Equal justice under the law is the state's primary responsibility. And in death penalty cases, I'm not convinced equal justice is being served," Inslee said. "The use of the death penalty in this state is unequally applied, sometimes dependent on the budget of the county where the crime occurred."
The moratorium means that if a death penalty case comes to the governor's desk for action, he will issue a reprieve. This action does not commute the sentences of those on death row or issue any pardons.
Since 1981, the year Washington state's current capital laws were put in place, 32 defendants have been sentenced to die. Of those, 18 had their sentences converted to life in prison and one was set free.
"I want to acknowledge that there are many good protections built into Washington state's death penalty law. But there have been too many doubts raised about capital punishment," Inslee said.
Inslee's announcement, coming as lawmakers begin their final 30 days of the current session, caught legislators like Rep. Bruce Chandler off guard.
"Most legislators were stunned. Without any warning, it came out of nowhere," says Chandler (R-Granger). "I feel for the victims' family members."
Chandler also worries Inslee's action might open the state up to litigation.
And, with a legislative session now underway, the Lower Valley lawmaker feels Inslee is deterring from the work at hand.
"I feel there are more important issues," Chandler said of Inslee's announcement. "It's a distraction from what the people want us to focus on; the economy and creating jobs."
Lastly, Chandler says Inslee chose the wrong venue to truly seek change on the capital punishment issue.
"The place to debate the policy on capital offenses is in the legislature, not in a conversation with the press."