GIRLS PREP BASKETBALL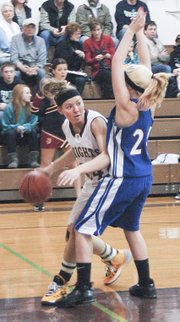 The Lyle Cougars struggled to score against Sunnyside Christian's defense as the undefeated Lady Knights rolled to an easy 71-8 victory last night.
On the final night of the regular season, all three of the Lady Knight seniors were shining. Stormee Van Belle scored 20 points to lead the team while Micki Williams added another 12 and Brittany Broersma dropped in 10 points.
Junior Annie Brouwer also bucketed 14 points for the Lady Knights and led the team in rebounds with eight.
"All the girls played in equal amounts, about four minutes a quarter," said Sunnyside Christian Coach Al Smeenk. "(Lyle) can't score against man-to-man defense, only against zone. We play man-to-man to defend against each player individually. Our girls shut them down."
Smeenk said he was surprised at how effective his defense was, praising the Cougars as a generally strong team.
"We may see them again in the playoffs," he said.
Sunnyside Christian, which finished the regular season 10-0 in league play and 20-0 overall, will be playing Trout Lake at 6 p.m. in the first round of the District playoffs in Goldendale this coming Friday night.
The last time the Lady Knights faced Trout Lake, the Mustangs were able to shut down Van Belle. However, Katelyn Banks and Kristen Broersma stepped up their scoring and Sunnyside Christian won handily, 76-35. Broersma is currently recovering from an injury and it is unknown if she will play this Friday.
"We're hoping she can play this weekend," said Smeenk. "We really need her for the playoffs."
If the Lady Knights win their first game, they will play at 5 p.m. on Saturday against another league opponent. If they win that game they will play the following Friday.
"They are all against opponents we've faced before," said Smeenk. "We're looking forward to it."