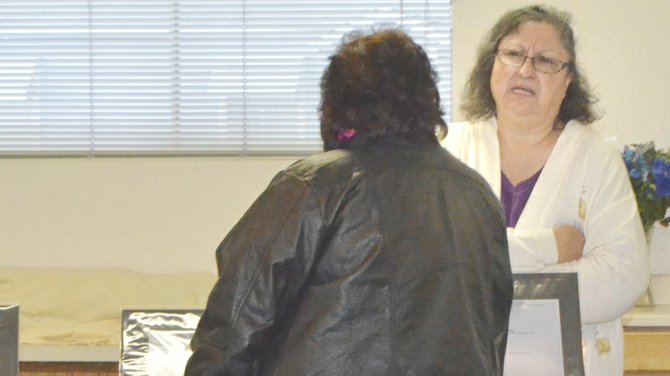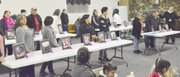 For those who are diagnosed with and survive cancer the experience is a journey, according to Carmina Borrego.
She was one of approximately 20 individuals exhibiting photographs at last night's Photovoice community reception, held at Sunnyside's Cornerstone Assembly of God Church.
Borrego said there are many ups and downs for someone who is fighting cancer. She was last year diagnosed with breast cancer, but on Jan. 3 of this year doctors told her she is in remission.
"When you have cancer it is always on your mind," she said.
The struggles vary throughout the treatment process, said Borrego. She said the most difficult part for her was the pity from others.
She said she would leave her home to avoid phone calls of sympathy.
"You have to lift yourself up…don't give up on your dreams," Borrego said.
There were times she would find herself at her grandmother's gravesite. "She lived to 93 and I would talk to her, telling her 'I've got this disease…'," Borrego trailed off, lost in her memories.
She said there were many surprises along the way, not always pleasant. She said she found herself discovering just how many people she knows who were experiencing the same struggles, fighting cancer themselves.
"You just don't realize how many people there are until you go in for chemo treatments and see all the familiar faces," said Borrego, stating the people with whom she came in contact weren't new to her. They were people she came in contact with before learning of her diagnosis.
"Cancer brings you to another world and makes you glad you are alive," said Borrego.
Cancer survivor Vicki Hernandez said one learns to rely on their faith to get through the treatments.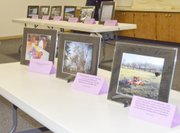 Helping her through it all were members of her family and the community.
"It's important to have support," Hernandez said.
Both survivors said they had to find support groups outside the community. They said their hope is that support programs in the Lower Yakima Valley will grow so that cancer patients will not need to travel as much.
Their sentiment was echoed by Sergio Palmas, whose mother last year battled cancer.
He said he took a photograph of a stop sign because losing his mother would mean he would have lost his family.
The stop sign, Palmas said, represents all that would cease to exist if she had not survived breast cancer.
He said, "It's not just the patient who is suffering, but their families, too."
For that reason Palmas believes there needs to be more support for the families of those fighting cancer, especially children.
"Without my mother I could have turned somewhere else, looking for a new family," said Palmas, stating many youngsters rely upon their mothers for much in life.
He said his fear for youngsters who don't have support is that they might choose a gang as a surrogate support system.
Palmas' mother, Maria, said surviving cancer has changed her focus. She photographed treadmills for the Photovoice project, emphasizing the importance of staying healthy and fit.
"Exercise helps my self-esteem, combats depression, keeps me healthy," she said, stating it is not only beneficial for cancer prevention, but other health concerns, as well.
Palmas said cancer had a significant impact on her family. She has lost a brother and several other family members to various forms of the disease.
"I am a survivor," she said.
All of the survivors exhibiting their photographs at the Photovoice event have a story. They all have a message of hope, according to Nathan Marchello of the Center for Community Health Promotion and Fred Hutchinson Cancer Research Center, sponsor of the project.
He said most believe keeping a healthy outlook, turning to others for support and leaning on one's faith helped them traverse the road to survival.
"This event is the end result of a number of ideas," said Marchello.
He said the project began last year and culminated in the photographs exhibited last night.
"The photos tell their own story," Marchello said. "The project gives a voice to something that impacts everyone."