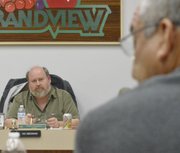 GRANDVIEW – A public hearing will take place on Tuesday, March 11, allowing the Grandview City Council to consider a petition to vacate Warehouse Street.
Yakima Valley Community College, City Administrator Cus Arteaga told the city council this past Tuesday, wishes to develop the property that is not in use.
He said the college wishes to build an entrance, parking and a new building. YVCC owns land adjacent to Warehouse Street, which has not yet been developed.
He recommended setting the date for the public hearing for March 11. The council approved that date by a 5-0 decision.