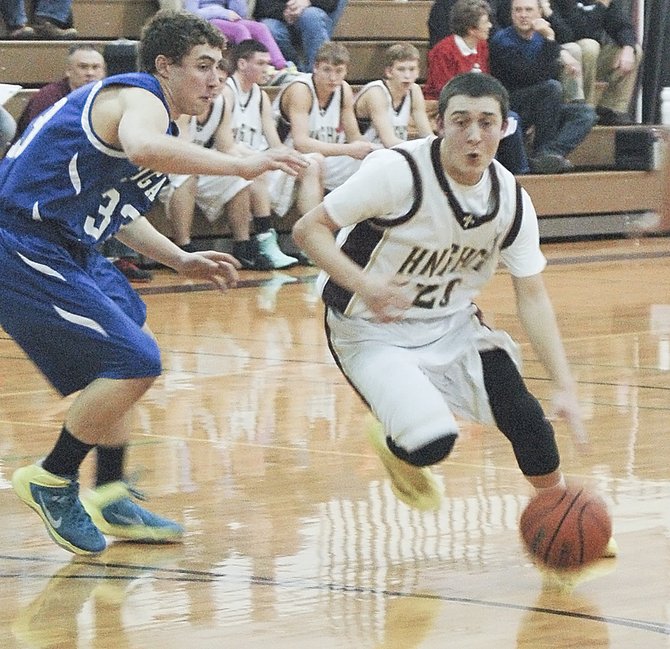 BOYS PREP BASKETBALL
It was a rough night for the Sunnyside Christian boys basketball team.
The Knights ended the regular season with a 40-30 loss to Lyle-Wishram.
The loss means Sunnyside Christian split its games against the Cougars. Earlier this season in Lyle the Knights defeated the Cougars, 50-39.
"Last night we were physically manhandled…that's what happened," said Sunnyside Christian Coach Brian Bosma.
He said the Cougars are a physical team. "We couldn't get around them," he said.
Lyle-Wishram opened the game on the Knights' home court with an 11-10 lead.
In the second quarter, the Cougars took a two-point lead, outscoring Sunnyside Christian 9-8.
Sunnyside Christian fell further behind in the third stanza, managing to score just five points. Lyle-Wishram added 10 points to its tally.
"Their defensive effort was better than our offensive effort," said Bosma. "We had no answer."
Sunnyside Christian struggled to find the basket in the final stanza, as well. The Knights were outscored 10-7 in the fourth quarter.
Lyle's Jonathan Von Ahn scored a game-high 15 points, while teammate Travis Armour contributed 10 points to the score.
For Sunnyside Christian, the leading scorer was Brant Bosma with eight points.
Drew Scheenstra and Darren Broersma combined for another 12 points.
The Knights ended the regular season with a Greater Columbia 1B League record of 6-2, 15-5 overall. Sunnyside Christian ended up in a three-way tie for first place in the league standings with Yakama Tribal and Lyle.
The Knights will open Districts tomorrow (Friday) in Goldendale against Yakama Tribal. The game starts at 4:30 p.m.
The two teams split the regular season games, each winning at home.
Win or lose tomorrow, Sunnyside Christian will play again on Saturday with hopes of advancing to next Tuesday's District games.