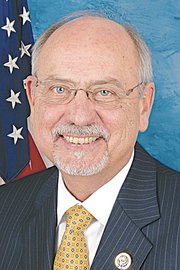 WASHINGTON, D.C. - Yesterday, Rep. Doc Hastings (R-Pasco) announced that he will retire from Congress at the end of the year. He has represented Central Washington's Fourth Congressional District for the past 20 years.
"Two decades ago, the people of Central Washington first voted to place their trust in me to represent them in Congress. In the nine subsequent elections, I've been humbled to have been given the privilege to serve as their common sense voice and to work for solutions to improve our local communities and pursue a better, brighter future for our nation," said the U.S. congressman.
"It is with deep appreciation for that privilege that I announce that this will be my final term in office and that I will not run for re-election in November," Hastings said in a prepared statement.
Hastings entered politics in 1974 when he was elected Franklin County Republican Party chair. An early supporter of Ronald Reagan, Hastings was chosen as a delegate for Reagan who was competing against President Gerald Ford for the nomination at the 1976 Republican National Convention.
He served as a member of the House of Representatives in the Washington State Legislature from 1979 to 1987 representing the 16th Legislative District, and chose to leave in order to spend more time with his family.
In 1994, Hastings was elected to Congress to represent Washington's Fourth Congressional District in the U.S. House of Representatives, defeating Democratic incumbent and now Washington State Governor Jay Inslee.
Yesterday afternoon, Inslee responded to the news that Hastings is giving up his U.S. House seat. "I always appreciated Doc's hard work on behalf of the Fourth District.
"We worked together on the Hanford Caucus that helped keep the issue a priority in Congress," Inslee said. "Despite the fact that we each beat the other once, we had a good working relationship, could enjoy a laugh together and swapped plenty of basketball tales."
It was in '94 when Hastings was first elected to represent the Fourth Congressional District that Republicans gained control of the House of Representatives for the first time in 40 years.
"My ambition as a congressman then and now has been the same - to do the best job I can to serve Central Washington," Hastings said in announcing his decision Thursday morning not to seek re-election.
Hastings, 73, said it is time for the voters to choose a new person with new energy "…to represent them in the people's House."
Between now and the end of the year, however, Hastings said he intends to work as hard as ever on behalf of Central Washington residents. "There is a number of community priorities that I am dedicated to seeing achieved in the months ahead," he said.
In issuing his prepared retirement statement yesterday, Hastings indicated his family weighed heavily in his decision. He noted that when first elected to the U.S. House of Representatives in 1994, he and his wife Claire were parents of three young adults who were just starting to make their own way in the world.
"Today, in addition, Claire and I have two sons-in-law and a daughter-in-law and are the grandparents of eight. As of last year all three of our children's families now call Washington state their home.
"Claire has always been my greatest supporter and the hardest part of every week is leaving her Monday morning to catch an airplane to Washington, D.C. She and I both look forward with anticipation to the time we will have together and with our family after my term ends in January," he said.
Hastings currently chairs the House Natural Resources Committee. He also chaired the House Ethics Committee from 2005 to 2007.
House Republican Conference Chair Cathy McMorris Rodgers, the Spokane-area lawmaker who delivered the Republican response to President Barack Obama's State of the Union Address a couple of weeks ago, lauded Hastings for having served the people of Central Washington with distinction. She said Hastings earned a reputation for hard work and integrity.
"One of Doc's greatest contributions has come from his service on the House Natural Resources Committee," said McMorris Rodgers. "From his roots in Eastern Washington, Doc's knowledge of farming, forestry and river resources made him a natural leader in these areas.
"With over half of all Western land owned by the federal government, Doc pushed for the sensible and sustainable use of the nation's natural resources, encouraging American energy independence and the wise use of water resources for hydropower and farming," she said.
"From my first year in office until today, Doc has always been a friend and mentor who set an example of what selfless leadership can accomplish. For the past 15 years, he never received less than 60 percent of the vote and could easily have won re-election this fall, but he has chosen to spend more time with Claire, his children and grandchildren. Doc's integrity, wise counsel and gentle humor will be sorely missed in the nation's capital," McMorris Rodgers added.
House Speaker John Boe-hner (R-Ohio) was just as effusive with his praise for Hastings.
"For nearly two decades, Doc Hastings has served in the House with honor, humility and distinction," said Boehner. "In addition to being a skilled legislator and leader, he's the epitome of grace and class, and he's a very dear friend.
"I'm grateful for Doc's service to our institution and our nation, and for his friendship and support throughout our many years together in the House. I wish him the very best of luck, and thank him for all he's done for the House, his constituents and our country," said the Speaker of the House.
U.S. Sen. Maria Cantwell (D-WA) also extended her congratulations to Hastings on his accomplishments during his 20 years serving in the U.S. House.
"I've been fortunate to work with Doc on several bipartisan issues over the years: securing investment in Hanford clean-up; supporting Central Washington agriculture research and exports; establishing stronger safety oversight for wildland firefighters after the deadly Thirtymile Fire in the Okanogan National Forest; and working to preserve Hanford's B Reactor as part of the Manhattan Project National Historical Park.
"I join the people of Central Washington in thanking Doc for his public service and wishing him the best in his future endeavors," Cantwell said.
In looking ahead to the soon-to-be vacated House seat, Washington State Republican Party Chairman Susan Hutchison yesterday said Hastings has been a powerful voice for Washington's Fourth Congressional District.
"As to who will run to win the Fourth District seat, I am very confident we're going to have a strong field of candidates drawn from the eight counties and eight legislative districts that overlap with the Fourth," said Hutchison.