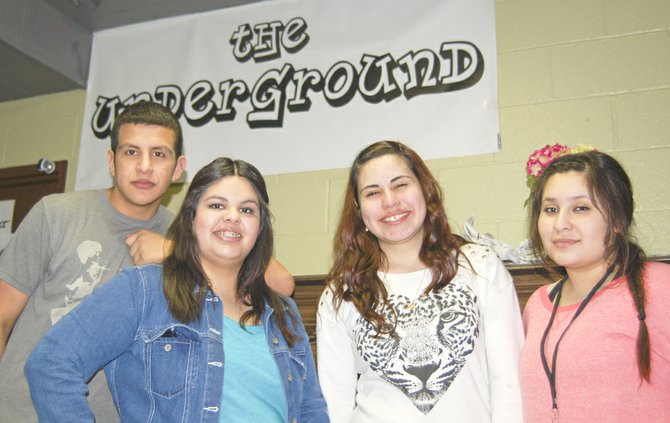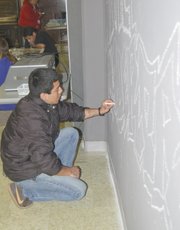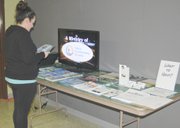 The basement is a comfortable lounge, complete with a small stage, a kitchen, air hockey table and a foosball game. There are plenty of chairs and an atmosphere of welcoming.
This is The Underground at Oasis Community Church in Sunnyside, an outreach effort designed to give people a place to go when they have nowhere else.
The church opened its basement last fall for three mornings a week to give the homeless a place to get hot coffee or cocoa and a little food along with some protection from the cold.
Starting in January, The Underground also opened its doors in the afternoons on Mondays, Wednesdays and Fridays to provide a safe venue for youth.
"Without any advertising, we have about a dozen kids who have come here," said Pastor Cameron Garcia. "The goal is to serve 100 kids a year. I have no doubt we'll exceed that."
In addition to simply providing a safe place to stay in the afternoons, The Underground will also have a few other events, such as an open mic night.
"Kids can rap, sing, whatever," said Garcia. "The point is to be able to express themselves."
The entire effort is run by volunteers and donations. Many local churches have provided time and supplies. Garcia said he hopes the local community will get involved, and has posted a "needs" page on the website at sunnysideunderground.org so people can see what to donate.
Garcia said the group is looking for a better sound system for open mic night and would like a projector so it can host movie nights. He also hopes to get laptops so participants can get online.
Garcia also hopes to do a little fundraising that will allow the church to hire a youth development specialist who can help get youth in touch with available services. He said that's a long term goal, but for now he's concentrating on providing a safe place for youth after school.
In preparing The Underground, Garcia consulted with local police to make sure it will be as safe as possible. He said the cinderblock construction of the building made wiring security cameras difficult, but the entire building is now covered.
"We wanted to make sure people are completely safe here," he said. "We just had volunteer training last week. The police department helped with lockdown procedures."
Several students from Sunnyside High School are also volunteering at The Underground as part of a youth task force. They help set up for events and also put on a contest to decorate one wall of the basement with a mural.
"We had nine entries," said organizer Maria Alvarez. "But only one turned in their poster on time."
Alvarez said she joined the task force, which the students call "Sunnyside Prevention," because she was tired of going to parties and hearing people think that they needed to use alcohol to have fun.
"It's possible to have a good time without it," she said.
Jorge Villalobos said he wants to help people to make their own choices about drugs and alcohol.
"I wanted to try something new and give people options of their own," he said.
Another student, Carina Gonzales, said she hopes the efforts of The Underground and the students in Sunnyside Prevention will have a big impact on the community.
"I just want to help my friend get away from the influence of drugs and alcohol," she said.
The Underground, located at 344 N. 11th in Sunnyside, is open on Monday, Wednesday and Friday from 8 a.m. until noon for homeless individuals and families. It is also open from 3 to 6 p.m. those same days for local youth.