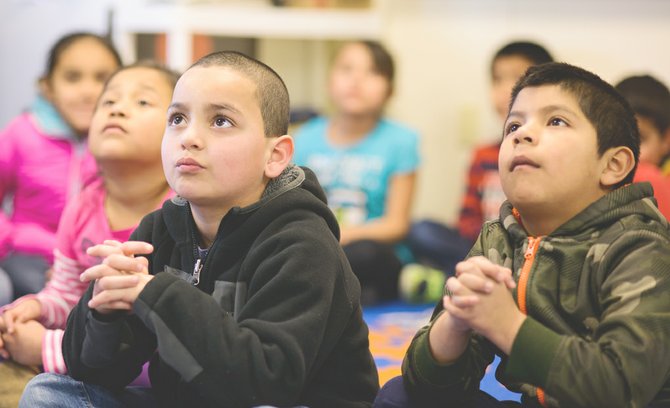 Juanita Tellez, 23, remembers not being able to do her homework in third grade. When she brought her schoolwork home, her parents struggled to understand English, the language it was written in.
Her third-grade teacher, Alicia Hernandez--who now goes by Alicia Rivera--was quick to understand Tellez's situation. Coming from an immigrant family herself, Rivera worked through assignments with Tellez in the mornings before school started and read with her while other children went to recess in the afternoon.
Tellez, a University of Washington graduate and now a teacher candidate at Heritage University in Toppenish, looks back at her third-grade experience as a turning point in her education…a teacher understood where she came from.
While Tellez managed to succeed despite the obstacles, thousands of students, particularly students of color, are failing to make it through Washington state's education system.
On Jan. 5, 2012, the Washington state Supreme Court ruled in McCleary v. Washington that the state was not sufficiently funding basic education under the state constitution.
More than a million students in the state's K-12 education system are affected by the lack of funding; the need is most distinctly felt by students of color. Several proposals in the current legislative session seek to close the educational opportunity gap by bridging the cultural divide between educators and their students.
"Right now we have a system that fails one out of every three African-American children, one out of every three Hispanic children and one out of two Native-American children," said Sen. Steve Litzow, R-Bellevue. "We are one of a handful of states where that opportunity gap continues to grow."
More than education
Conversations alternate rapidly between English and Spanish in the lobby of Washington Middle School in Yakima. Being bilingual is a necessity for the staff at this school with a population that is more than 90 percent Hispanic.
Around 700 students attend the school, nearly all of them are on free or reduced-price meal plans. Some children have problems staying in class because of suspensions or expulsions. Other children have obstacles getting to school in the morning.
"We're a high-poverty school…our students come to us with a lot of needs," said Principal Dave Chaplin.
Washington Middle School was the recipient of a federal School Improvement Grant in 2010, a grant given to the lowest-performing schools in the nation. Part of the funds were used to hire a person to help with school attendance. In one case, the new staffer fixed broken plumbing for a student who couldn't get to school.
While school improvement grants operate on a federal level, a proposed state bill could give under-achieving schools across Washington state an opportunity to engage families and communities.
House Bill 2553 would award need-based grants on a competitive basis to the lowest achieving schools in the state. Currently, of about 2,300 schools, 440 would be eligible for the grant. The bill would allow schools to decide what would be best for their students, including--but not limited to--hiring translators or community outreach coordinators.
A different bill that was passed in 2012 gave two Seattle schools--Rainier Beach High School and Aki Kurose Middle School--a $1 million grant each. Under the Urban School Turnaround Initiative, part of the grant was provided to help the schools increase community and parent involvement.
Prime sponsor of HB 2553, Rep. Eric Pettigrew, D-Seattle, said, "The success we've had with Rainier Beach and Aki Kurose, I'm trying to make it statewide and offer it up to districts that have similar challenges."
More than 26 languages are spoken at both Aki Kurose Middle School and Rainier Beach High School. Many of the students are English Language Learners.
"The idea is that the schools know what they need. They know where their kids are and their parents are," Pettigrew said.
"The principal and the community have a pretty good idea of 'If we had these resources, this is where we would put them'," he said.
For school staff at Washington Middle School in Yakima, education is on a long list of daily needs faced by students.
Brandon Denny, an eighth grade U.S. History teacher at the school, believes many of the problems children face stem from home.
"Not having structure at home, not having structure in life, not used to taking orders from somebody…they rule the house, single-parent homes, poverty, not getting nutritional food," he said.
"If we just did the 'traditional instruction' here at our school, we would lose a lot of kids," said Chaplin.
Not always heard
Tellez, who grew up in the Yakima area, said that while her parents were supportive, they weren't always helpful when it came to education.
Her parents were migrant workers from Mexico. Her mother finished sixth grade and her father finished second grade. Neither of them graduated high school.
"A lot of these students, they're coming from a home where they don't have somebody with higher education," Tellez said.
After Rivera, who spoke Spanish, personally reached out to Tellez's parents, Tellez began receiving additional help both at school and home.
At Washington Middle School, Chaplin said parents are often reluctant to get involved with the school. Even after fliers, pamphlets and multiple phone calls in their native language, sometimes parents are still unresponsive.
"There's a lot of barriers as to why parents don't get involved with their kids," said Chaplin.
"It could be historical…they had a bad experience when they were in school, so they are either intimidated by the institution of school or they are hesitant to interact because they haven't felt like they've been heard at times prior to this," he said.
For schools in diverse areas, communication is a significant barrier in meeting the educational needs of students.
House Bill 1815 would require schools to adopt a "language access policy" by August 2015. This would require the use of adult translators, not students, for school meetings, as well as adoption of policies regarding written and other verbal communication. The bill would not provide any additional funding to schools.
Prime sponsor of the bill, Rep. Moscoso, D-Mountlake Terrace, said that it's common for students to translate for their parents in school settings.
"It's important that all kids have equal access to the education process. And they're not going to have that if the parents don't know what the process is," he said.
"You're not just teaching students, you're teaching family," Moscoso said.
Having the same opportunity
Parents slowly trickle in to the school library for a meeting with the principal and teachers. On their way in, most of them stop to pick up an earpiece that receives live translation from one of the teachers.
Chaplin said the Yakima middle school started buying the technology with whatever leftover funds they could manage in order to help facilitate parent-teacher meetings.
Jesus Hernandez, a parent at the meeting, came to Washington state in 2001 from Mexico and works as a mechanic. While he thought it was important to be involved with the school, other parents might not have the same opportunity.
"Some parents might be working nights and not be able to come," Hernandez said. "But the advantage that I have is that my work schedule allows me to be here."
With the multitude of languages spoken by students at Aki Kurose Middle School, the school hired a community-school partnership coordinator to address unique challenges the school faced.
"We try to find someone to help with interpretation for families as much as possible," said Principal Mia Williams. "But we're also having different ethnic-based group meetings."
By addressing some of the unique needs at the school, students have seen steady improvement in academics. According to a report from the Office of Superintendent of Public Instruction, Aki Kurose Middle School made progress in math and reading, closing the achievement gap in relation to other schools.
Williams said it wouldn't have been possible without the additional funding provided by the grant.
"If you want to change the outcome, you have to change the input," Pettigrew said.
Bridging cultures
After her family moved to Washington state, Tellez's third grade teacher, Rivera, worked in the field harvesting onions with her parents starting when she was 5-years-old. While Tellez never had to work in the fields, Rivera was intimately familiar with the challenges Tellez faced in school.
Tellez said she was inspired to become an educator herself, in part due to her experience in Rivera's third grade classroom.
"If you're not aware of the culture in your classroom, there's going to be a point where you're not going to get your learning across to your students," Tellez said.
House Bill 1680 specifically aims to close the opportunity gap inside the classroom. The proposal would require cultural-competence training for all educators. The bill would also provide a pathway for para-educators to become certified instructors and provide sponsorships to those seeking bilingual or ELL training. The bill would also address disproportionality in student discipline among students of color.
"The basis of learning and teaching is effective communication," said prime sponsor of the bill, Rep. Sharon Tomiko Santos, D-Seattle.
"You can have funding, but if you have educators that are not skilled in cultural competency or cross-cultural communication, then you are not going to be able to solve the crux of the problem, which is the miscommunication that occurs," she said.
Believing in students
Tellez graduated from Sunnyside High School in 2008. Of her graduating class, more than half failed to graduate.
Among the reasons were failed classes, unexpected pregnancies and gang activity, Tellez said.
"When we had the 41 percent graduation rate, it was by chance. We didn't really know what kids needed," said Sunnyside High School Principal Ryan Maxwell.
Since then, the graduation rate at Sunnyside High has risen to one of the highest in the state at more than 80 percent. While Sunnyside High School was the recipient of a federal School Improvement Grant, Maxwell attributes the transformation to a change in attitude.
"The biggest thing was the belief we had in kids. We now believe that all kids can do well. It took us some work to come to that conclusion," he said.
Both Tellez and Rivera wanted to give their students the same opportunities they had…to go to school and to pursue their aspirations.
"We're about opportunity. Opportunity for every student. We cannot say that we are giving the opportunity fairly for every student if we ignore where they come from," said Santos, the Seattle lawmaker.
During a conference between legislators, educators and students, Santos remembers a young lady stood up and said, "The thing that we want to communicate to our educators and our policymakers is that our identities and our communities are not a barrier to our success."
- Elliot Suhr is an intern with the Washington Newspaper Publishers Association News Service.