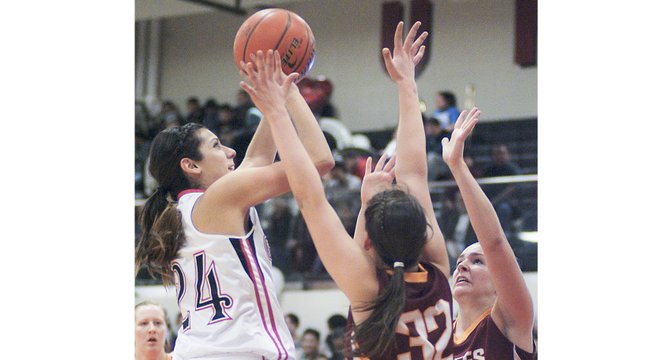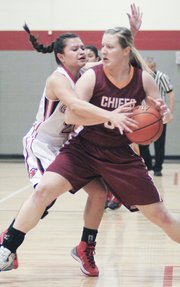 For Sunnyside, there is no 'I' in team.
But, there is plenty of 'D'…as in deliberate, disruptive, dominating defense.
And that 'D', every element of it, was on full display last Friday when the Lady Grizzly basketball team choked off a very solid Moses Lake squad, 58-48.
Coupled with a conference ending, crushing 74-52 victory over winless Eastmont on Saturday, Sunnyside emerged as this year's Columbia Basin Big Nine League champions.
The Lady Grizzlies (12-3, 17-3) now enter 3A postseason play as this region's No. 1 seed. Sunnyside will host a loser-out playoff game against Spokane's North Central High School tomorrow night (Tuesday).
In claiming its first league title in well over a decade, the key match-up for Sunnyside this past weekend was Friday's home game against Moses Lake. It was a must-win affair for the Lady Grizzlies because Moses Lake had a one-game lead on Sunnyside in the conference standings.
With the 10-point win over the visiting Chiefs, both Sunnyside and Moses Lake ended up league play with identical 12-3 records. But, from a tiebreaker standpoint, based on taking 2-of-3 games from the Chiefs this season, Sunnyside earns bragging rights for the 2013-14 season.
Moses Lake (12-3, 16-4) can take some comfort in taking the No. 1 seed into the 4A regional playoffs. The Davis Pirates (10-5, 11-9) are the Big Nine's No. 2 seed in the 4A playoffs.
In knocking off Moses Lake last Friday – for Sunnyside – it was all about contesting each and every Chiefs' possession.
A hustling, full length of the floor, in-your-face defensive effort got the job done for the Lady Grizzlies. The gritty performance included keeping Moses Lake off the scoreboard for the first four and a half minutes of the second half, which translated into a 12-4 third-quarter scoring spurt for Sunnyside.
"This one was truly a team effort," said SHS Coach Rick Puente. "Defensively, it was probably our best performance of the season.
"The girls were hungry, and it showed. They executed the game plan.
"All the turnovers - the deflections, the swipes, the blocks - they were a direct reflection of what our girls were intent on achieving last Friday," Puente said.
As well as all the Lady Grizzlies played, it may have been junior Tiana Perez who elevated her game the most against the Chiefs. The 5'10" post was a beast inside the paint, turning away one Moses Lake drive after another.
"It's difficult to single out just one player, because this game, if we ever had one, was all about being a team effort," said Puente. "But after the game I have to admit, Tiana's performance got noticed and talked about.
"When Tiana sets her mind to it, she can play very strong. Her performance in Friday's game, it started with a terrific week of practice leading up to the game," Puente said.
Sunnyside and Moses Lake jockeyed back-and-forth in the opening three minutes last Friday. The Lady Grizzlies took the lead for good, at 7-5, when junior Jordan Rodriguez nailed a trey with 4:25 showing on the first-quarter clock.
Rodriguez, the team's leading scorer this season and last, ended up in double figures Friday night. She scored 13 points, nine of them in the opening half.
The first sign that Sunnyside was going to take complete control of the contest came when freshman Emilee Maldonado drained a 3-point bomb to close out the first-period scoring. The trey boosted the Lady Grizzlies' lead to 14-9.
Maldonado, the game's top scorer with 17 points, hit another 3-pointer after the Chiefs opened the second quarter with a 4-0 run to pull within one.
Following another Moses Lake bucket, getting the Chiefs to within 17-15, Sunnyside senior Vanessa Alvarez scored on an offensive putback. That was followed by two Rodriguez free throws, which pushed the Lady Grizzlies' lead back out to 21-15.
The two teams exchanged baskets in the final two minutes of the opening half, which left Sunnyside with a 26-22 lead at intermission.
The decisive swing for the Lady Grizzlies came in the opening four minutes of the second half, when Sunnyside pieced together a 9-0 run to take a 35-22 lead.
Perez started the rally, taking a pass from a teammate inside the key, whirling and banking the shot home. After two-point buckets by Rodriguez and Maldonado, and a pair of free throws by freshman Jessica Mendoza, Perez capped the 9-0 spurt by hitting 1-of-2 from the charity stripe.
Sunnyside couldn't buy another third-quarter basket after that, until that is, Maldonado launched a howitzer from way downtown with just two seconds left in the period. Hitting nothing but net, the shot sent the Lady Grizzlies into the final period with a 38-26 lead.
Puente, who says he's never too worried about the offensive end of the game, lauded his players for coming through at critical times.
"The girls seem to always come up clutch, when we need a basket, in clutch situations," he said.
The Chiefs outscored Sunnyside by two down the stretch, but never did get any closer than nine points in the final stanza. Maldonado, Perez and Natalia Bazan helped keep Moses Lake at bay in the final eight minutes by combining for 14 of Sunnyside's 20 fourth-quarter points.
Individually, besides the 17 and 13 points that Maldonado and Rodriguez scored for Sunnyside, Bazan and Perez tallied 9 each, Mendoza chipped in 5 points, Selena Rubalcava hit one trey and Alvarez had 2 points.
The Chiefs were led by sophomore guard Jessie Loera's 14 points, and got another 12 from junior guard McKenna Walker.
In closing out Big Nine League play at Eastmont on Saturday with a 74-52 win, Sunnyside received a game-high, 16-point performance from Bazan.
Looking ahead to this coming Tuesday's 6 p.m. Regional tourney playoff opener against North Central High School, Puente said his players are hoping for yet another large turnout of Lady Grizzly fans.
"All the girls loved the support we got last Friday at home," Puente said. "The crowd was awesome. We're hoping for just as big of a crowd this Tuesday."