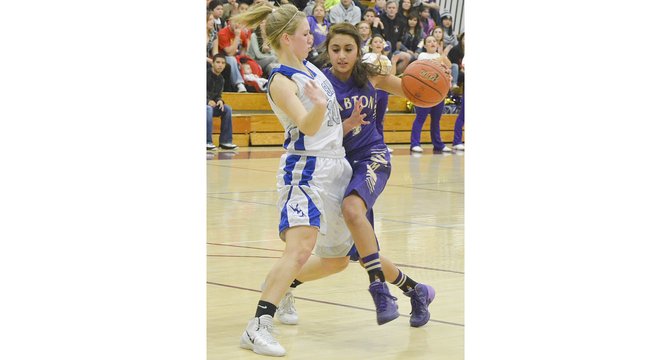 GRANDVIEW – The Mabton Lady Vikings, having had a poorly executed game this past Saturday in the District semi-finals against LaSalle, will need to win two more games if they are to advance to Regionals.
Mabton lost its semi-final game against the Lightning 65-42 on Saturday at Grandview High School.
That means the Lady Vikes will need to defeat Connell and the winner of this coming Friday's game between Zillah and Burbank.
"We picked the wrong night not to show up to play," Mabton Coach Chris McCallum said of Saturday's District tournament game.
He said, "We were just outmatched…they beat us in every aspect of the game."
LaSalle took an early lead, ending the opening quarter 11-5.
Mabton battled themselves, fouling early and often.
In the second stanza, LaSalle widened the lead to 34-17.
The Lady Vikings attempted to come back in the third stanza, defending the ball to outscore the Lightening 16-14.
The fouls, however, hurt Mabton as Alyssa Nash had to leave the game in that quarter.
"Mentally we were just not there," said McCallum.
The Lady Vikings committed 32 turnovers and LaSalle was quick to steal. When Mabton got the ball to the net, the shots weren't dropping in.
Making it more difficult was Clare McGree's offensive attack for the Lightning. She dished the ball into the net for two three-point baskets in the third stanza.
In the final quarter, LaSalle added salt to the wound, holding Mabton to just nine points. The Lightning on the other end of the court landed its shots for 17 points.
"I know they are a pressure team, but a lot of the turnovers were just careless on our part," McCallum said.
"We sent them to the foul line way too much, we fouled way too much and have to get better defensively."
McCallum did say he was surprised by the less than stellar effort after seeing the Lady Vikings prepare for the game against LaSalle, a team that Mabton defeated late in the season.
He said he has faith the Lady Vikings can overcome the loss and defeat Connell this coming Thursday.
Leading Mabton on the scoreboard was Soila Zaragoza with 21 points. Teammate Desanay Guerrero added 10 points to the final tally.
For the Lightning it was Deanna Avalos who scored a team-high 17 points. McGree contributed 11 points to LaSalle's score.