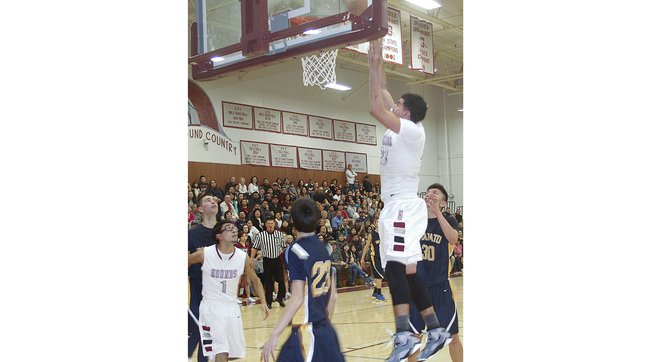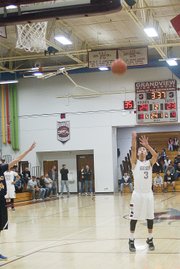 GRANDVIEW – In what was one of its best games this season, last night the Grandview boys basketball team has given itself a chance at winning the District championship.
Grandview and Wapato have always battled one another, but last night it was the Greyhounds that dominated nearly all of the game on its way to a 74-67 victory in the District semi-final.
Grandview, as a result, will compete against Ephrata this coming Thursday at Sunnyside High School for the District title.
Last night, the Grey-hounds were eager to avenge an earlier 77-65 loss to the Wolves. That game took place on Grandview's home court earlier this month.
Revenge is sweet for the Greyhounds as the two teams took center stage at Grandview High School during last night's game.
The Greyhounds opened the game with a 22-13 lead at the end of the first quarter, and held the Wolves at bay through the second and third quarters.
"We started out hot and were able to build a nine-point lead going into the half," said Grandview Coach Glenn Braman.
Grandview maintained its lead and ended the third quarter 51-45 over the Wolves.
Joey Saenz contributed to that lead, hitting his stride with seven successful treys on his way to a career best 23 points.
Wapato wasn't going down without a fight, how-ever, and in the fourth quarter the Wolves turned up the heat in an attempt to over-come the deficit. They scratched and clawed their way to scoring 22 points, but the effort wasn't enough as Grandview answered with 23 points to secure the win.
"Wapato is one of those teams that never go away…each time we looked like we were pulling away, they put a run on and closed the game down to single digits," said Braman.
Saenz was the leading scorer against the Wolves, while teammate Isaiah Gonzales had a double-double, chipping in 21 points and collecting 14 boards.
Also scoring double-digits for the 'Hounds was Bryce Carpenter with 13 points.
Isaiah Ruiz of Grandview provided nine assists and tallied four steals.
Wapato's leading scorer was Adam Vela with 15 points. Teammate Christian Vela contributed 14 points to the final tally.
Braman said this Thurs-day's game, too, will be ex-citing. "We are really starting to share the ball well, and we are executing the little adjustments that need to be made at this time of year."
The Greyhounds, during their last match-up with the Tigers, lost a tightly contested game 59-52. Grandview is seeking to prevail for the District championship title.
Tip-off at Sunnyside High School this Thursday will be at 7 p.m.