WORDS FROM WASHINGTON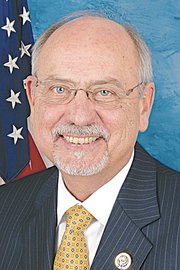 Every February, it is customary for our children and grandchildren to celebrate George Washington's birthday, or President's Day, by learning about the Father of our Country.
School children will learn that George Washington was married to Martha, defeated the British as general of the Continental Army and served as our nation's first president. They will also learn Washington has a state named in his honor, had wooden teeth, and the legend that he chopped down a cherry tree and when asked about it by his father said, "I cannot tell a lie."
Yet, George Washington's greatest contributions to our country do not lend easily to elementary school lessons. When our children reach the age of 18, they gain the right to vote and have a voice in selecting our president. However, without George Washington's leadership and foresight, the United States of America may never have come to be the democracy it is today and the position of the Presidency never created.
Against all odds, General Washington commanded the Continental Army to victory against the greatest military in the world. After the British surrendered, Washington denounced suggestions from many of the patriots who had fought with him for liberty that the military govern the new nation and he become King. Instead, Washington humbly retired his command and returned home.
Several years later, when the new Constitution was written, Washington presided over the Convention in an impartial role. The British monarchy remained fresh in American memory, and fear of a tyrannical executive led the Convention to divide the government into three equal branches. The distrust of executive power was so great that many accepted the new Constitution's creation of a president, only with the assumption that Washington would serve in that role.
Washington was, of course, unanimously selected to become our first president. Washington gave life to the newly-created office: providing stability for the new republic, respecting the role of Congress, and establishing the role of the president as a servant, not ruler, of the people. Despite calls for him to seek a third term, Washington declined and returned home to Mt. Vernon, setting a precedent for future presidents to come.
By insisting on democratic rule, setting high-standards of humble service, and relinquishing his powerful position after two terms in office, George Washington truly guaranteed he would forever be "first in war, first in peace, and first in the hearts of his countrymen."
- U.S. Congressman Doc Hastings (R-Pasco) represents Central Washington's Fourth Congressional District.