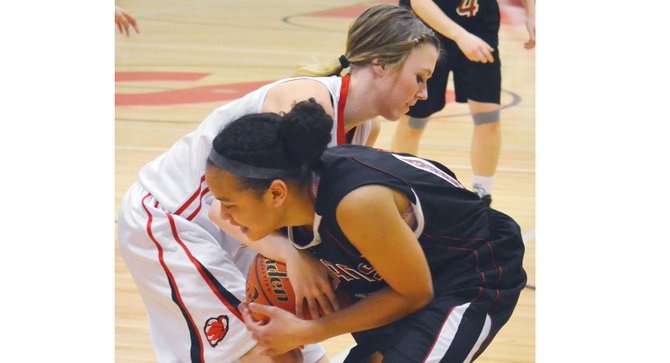 The Sunnyside Lady Grizzly basketball team came out firing last night on the way to a 70-43 home playoff victory over North Central.
Tuesday night's loser-out contest saw Sunnyside open with a blistering pace in grabbing a 33-12 lead at the half over the Indians.
"We came out very aggressive," said Sunnyside Coach Rick Puente. "We wanted to pick up the tempo of the game, be aggressive with the press and get up and down the court."
Sunnyside was cooking on all four burners until mid-way through the third quarter when North Central found a spark and pulled within 11 points.
With the Indians threatening to close the gap to single figures, Sunnyside righted the ship with a 24-10 run to close out the contest.
"They came out aggressive in the second half and we didn't adapt to it," said Puente. "But we made some adjustments and dug in our heels in the fourth quarter."
The key, he says, was making sure Sunnyside defenders contained North Central's ball handlers.
As it turned out, Sunnyside did more than contain as it swiped 19 steals. Emilee Maldonado recorded seven steals for the Lady Grizzlies, and teammate Tiana Perez hustled for five steals.
Perez proved to be a triple threat last night. The junior not only tallied a double-double with 17 points and 10 rebounds, but in addition to her steals she also climbed the ladder to block four North Central shot attempts.
"She came out and played a great game, she was flying out there on the court," Puente said of Perez.
Jordan Rodriguez also posted a strong all-around game for Sunnyside with 16 points, nine rebounds and two blocked shots.
Rodriguez and Perez, in addition, sparked the Lady Grizzlies when it mattered most. Each scored eight points in the pivotal fourth frame to ward off North Central.
A third Lady Grizzly, Selena Rubalcava, also tallied in double figures for Sunnyside with 10 points.
Maldonado and teammate Natalia Bazan each scored 8 points for Sunnyside last night. Maldonado also hauled down eight boards for the Lady Grizzlies and teammate Jessica Mendoza recorded seven rebounds to go with 5 points.
Megan Murphy led North Central with 14 points and Sabrina Keys was strong under the hoop for the Indians with 11 rebounds.
Sunnyside (18-3 overall) can breathe a bit easier as it advances to the double-elimination Sub-Regional tourney, starting this coming Friday at home at 8 p.m. against Shadle Park.
But whether it's a potential one-and-done scenario, like last night, or the double-elimination drive to the State Regionals it now faces, Sunnyside isn't changing its approach.
"We've had a model all season of only focusing on the game in front of us," says Puente. "Our goal is to go 1-0 every day."