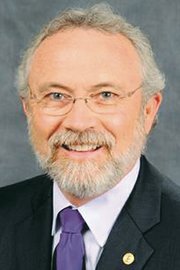 YAKIMA – After mulling it over for a week, Sunnyside's Dan Newhouse has thrown his hat into the ring, announcing today his decision to run for Congress.
Newhouse made the announcement Thursday during a press conference in Yakima, making it official that he's campaigning for Rep. Doc Hastings' Fourth District seat in Congress. Hastings, a 10-term incumbent, announced last week he is retiring at the end of 2014.
"Since Congressman Hastings announced his plans to retire, I have received countless calls from friends, neighbors and associates encouraging me to run," Newhouse said during this afternoon's appearance at the Yakima Valley SunDome. "After considering the important issues facing our nation and the people of Central Washington and following an in-depth discussion with my family, I have decided to enter the race to be Central Washington's next member of Congress."
Newhouse, a Republican, is a Sunnyside-area farmer who previously was a four-term state legislator and appointed by Gov. Christine Gregoire, a Democrat, to serve four years as director of the Washington State Department of Agriculture.
"I know that serving in Congress won't be easy and will often be frustrating, but I feel I have a duty to engage in finding solutions," Newhouse said in today's announcement. "As a legislator and as the director of a state agency, I was acutely aware that every penny spent came out of the pockets of the taxpayers. I have reduced agency budgets and adopted lean working principles. It is time for Washington, D.C., to follow the same rules that apply to countless local governments and private businesses by being just as fiscally responsible."
Newhouse chided ObamaCare as an example of how "…complex government mandates create uncertainty and destroy jobs."
If elected to Congress, Newhouse says he "…will work tirelessly to see that ObamaCare is repealed and replaced with a market-based approach which takes government out of the doctor-patient relationship."
Other priorities Newhouse sees for Congress include tending to water and energy needs in the Northwest, including preservation of dams from being removed.
"Given the steady improvement in fish runs, we cannot allow this to happen," he says of breaching dams. "I will work in Congress to support efforts to better manage our water resources, including additional storage, so that sufficient water and power are available for communities, agriculture and future development while still meeting our environmental responsibilities."
Lastly, Newhouse in his announcement today pledged to make the Hanford clean-up a priority for the Department of Energy.
"I understand the responsibility the federal government has to clean up Hanford," he said. "They made the mess and they have the responsibility to clean it up. As your Congressman, I will keep the pressure on the Department of Energy to follow through with clean-up in a timely manner."