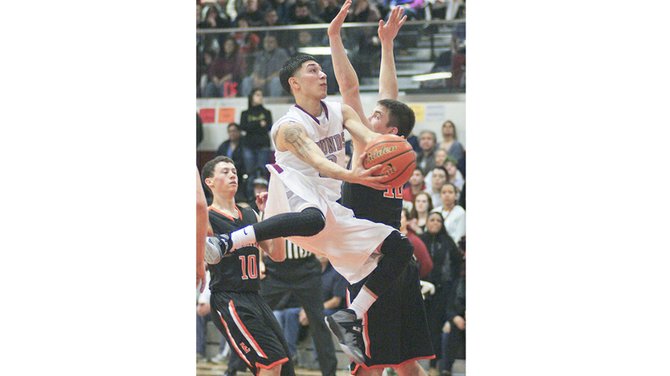 The Grandview boys basketball team celebrated winning the CWAC District championship last night after narrowly defeating Ephrata 69-65.
It's the first District title for the 'Hounds since 2007, advancing them to Regionals to take place next weekend.
"We don't know our opponent, location or time, but that should be sorted out by Sunday," said Grandview Coach Glenn Braman.
As for Thursday night's intense game in the Sunnyside High School gym, Grandview started the contest with a three-point deficit at the end of the opening period.
The Tigers continued the momentum in the second quarter, outscoring the 'Hounds 23-15.
"It was a physical game from the tip," said Braman.
The team's leading scorer this season, Isaiah Gonzales, got into foul trouble early in the opening half.
"It must have save his legs because he had a monster second half," said Braman.
Gonzales score 14 of his game-high 18 points in the third and fourth quarters. He also grabbed nine boards during that time period.
Braman said the Greyhounds fell behind quickly "…due to Ephrata's hot shooting…we were having trouble finding open looks, let alone connecting."
He said some adjustments at the half made a difference.
"One of which was changing how we were guarding certain guys due to their first half shooting," said Braman.
He said Grandview also attacked the basket more frequently in the second half, which led to outscoring the Tigers 20-16 in the third period and holding Ephrata to just nine points in the final stanza.
Grandview also had more opportunities at the charity stripe.
It was Joey Saenz that gave the 'Hounds the final push to the finish. He scored a trey that provided Grandview its first lead late in the fourth quarter. Throughout the game, Saenz was instrumental in that he scored 12 points for the 'Hounds.
Contributing to the surge in the second half were performances from Bryce Carpenter, who secured 10 rebounds and 15 points for a double-double, and teammate Isaiah Ruiz with 12 points, six assists, four boards and two steals.
"(Bryce) had some crucial three-point baskets," said Braman.
He was pleased to have four players in double digits.
"I am very proud of the kids for staying focused in the face of adversity," Braman said, stating the Greyhounds have a reputation for playing with
vigor.
"Credit must go out to the Tigers for playing a great game," he said.
Ephrata's leading scorer was Riley Pheasant with 14 points. Teammates Cameron Ball and Jacob Laird pitched in 12 points each.
"It was one of the best high school basketball games I have been a part of…a memory these kids will cherish for years to come," Braman said.
He said Grandview will continue to focus on its philosophy "…1-0 each game out."
Ephrata will play Wapato for the runner-up District spot tomorrow (Saturday) at Sunnyside High School.