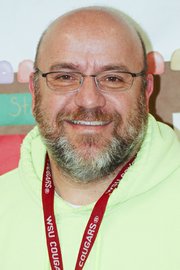 Age: 45.
Spouse: Michelle Perry.
Children: Six girls: Ashleigh, Kianne, Meagen, Mattie, Annabelle and Abbigale.
Occupation and place of work: Para educator at Outlook Elementary.
My favorite part of the Yakima Valley is... The small town feel.
When I was a child, I wanted to grow up to be... A drummer in a rock band.
First job I ever had was... Working in my parents' grocery store in Toppenish (D and M Foods).
If a movie was made of my life, the actor/actress I'd want to play me is... Kevin James.
The best gift I ever received was... My family and friends.
The best piece of advice I ever received was... From my dad. He said if you pay attention and listen carefully you'll learn who people really are.
My favorite dessert is... My wife's chocolate cake.
I'd love to learn how to... Fly a plane.
One of my most memorable moments, besides getting married or having children was... The first time I saw my wife.
If I could witness any event past, present, or future, I would want to see... The building of Stonehenge.
The furthest I have been away from home is when I went to... San Diego for vacation.
My favorite leisure activity or hobby is... Fishing and camping.
If I didn't have to worry about money, I'd spend my time... Tinkering in a shop and volunteering.
The one word that best describes me is... Quiet.
If I could change one thing about myself it would be... Learning to forgive myself.