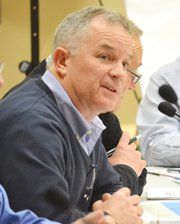 GRANGER - The evening began with a challenge and ended with consensus.
In between, the Lower Yakima Valley Groundwater Advisory Committee cleared long-standing hurdles last night.
Thursday's meeting in Granger saw the far-flung committee of competing interests – ranging from dairy producers to environmental groups – find common ground on deep soil sampling of farms in the Lower Valley.
The advisory's irrigated ag work group has been working for months to create a method to gather deep soil samples on local farms to determine nitrate levels, while at the same time assuring producers anonymity.
That anonymity is important because a suit was filed last year against a group of Lower Valley dairy farmers who volunteered to participate in a survey of their lands. Results of that survey were then used against the dairy owners in a lawsuit.
Jim Trull of SVID spoke for the irrigated ag work group last night and said a method has been developed to use bar codes to identify growers participating in the deep soil sampling.
By consensus the advisory committee approved the bar code strategy to identify deep soil participants rather than by their names or locations.
Trull says the next step is to in April start a public relations push recruiting farmers to volunteer for the deep soil samples. He says testing will start this September.
There was also consensus Thursday night on expanding research on possible sources of nitrate contamination to include municipalities, residential lawns and septic tanks, as well as businesses like golf courses.
Charles Ellingson of Pacific Groundwater Group, which will conduct the residential/commercial research, pledged the focus would not include site surveys or focus on identifying individual residential and commercial property owners.
Rather, he says, the four-month research project will review general data already available showing the impacts of over-fertilizing lawns, for example.
Consensus on multiple fronts last night appears to be a sign of progress for a group whose meetings have often been plagued by mistrust and contention.
Tom Tebb with the Department of Ecology weighed in on that at the start of Thursday's meeting.
"We need to leave some of our disagreements outside," Tebb said in calling for the advisory's diverse interests to take the "courageous path" in forging greater partnerships.
Last night's meeting ended with yet another hopeful sign for that "courageous path," as a third point of consensus decided the advisory group only needs to meet every other month because of successful efforts by smaller work groups.
As a result, the Lower Yakima Valley Groundwater Advisory Committee's next meeting will not be until Thursday, April 17, at 5 p.m. at KDNA's office in Granger.