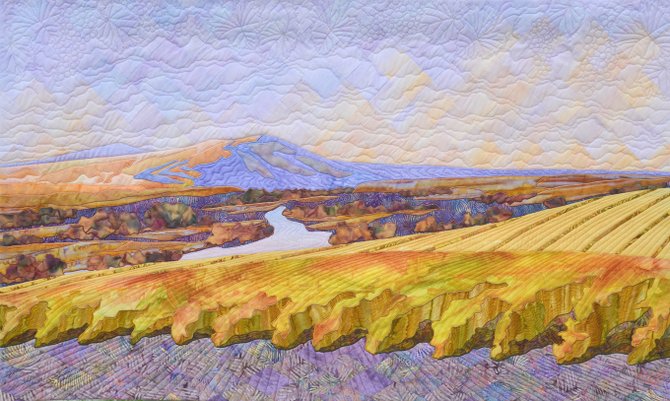 KENNEWICK - The Tri-City Quilters' Guild will present its 31st annual show on Friday and Saturday, March 21-22, at the Three Rivers Convention Center in Kennewick.
Admission is $5, parking is free, and food and beverages will be available.
Doors open at 10 a.m. both days.
The theme, "A Quilter's Journey," was chosen by chair Jean Keaveney, and speaks to the individual ways quilters develop their own unique styles within the craft, as well as the collective way quilting as a whole has changed historically.
A special display will celebrate the changing-yet-unchanging trends in quilting. "Everything Old Is New Again" features new quilts inspired by vintage or antique pieces.
Guest featured artist Carolyn Barnes is the author of Color: The Quilter's Guide and The Quilter's Color Club. On Friday at 2 p.m. she will lead a gallery tour and analyze the color palettes in guild members' quilts. On Saturday at 1 p.m. she will lecture on her own journey as a quilt artist.
Member featured artist Faye Notch will exhibit her favorite and most successful quilts. Her many experiments and adventures in surface design are often executed in her favorite colors – cool blues and lavenders.
The raffle quilt, "Wine Country Dream," will go to the owner of the winning ticket at 4 p.m. on Saturday.
Sue White, the guild's featured artist in 2012, collaborated with local photographer John Clement to choose a picture to execute as a quilt.
Entries in the show contain a traditional Drunkard's Path block. Travelling quilts from the Hoffman challenge will also hang in the main hall.
The vendor mall will feature more than 35 sellers of quilting and fiber arts merchandise. Similar sorts of previously-owned items will go to the winning bidders in the guild's silent auction.