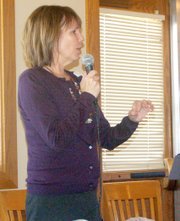 Carol Louden of Yakima became aware of a need for a quality hospice care facility when her son-in-law was suffering from a terminal disease.
The need to have a place where caregivers can feel comfortable giving over the care of their family members for a few days led her to volunteer to be a member of the Yakima Memorial Foundation's drive to create Cottage in the Meadow, a full-care hospice facility for individuals facing terminal diseases.
Two years ago Cottage in the Meadow opened with 12 beds for hospice patients, Louden told the members of the Nouvella Club, which met yesterday (Thursday) at Sunnyside's Snipes Mountain Brewery and Restaurant.
The facility, located on Tieton Drive in Yakima, is only one of two such facilities in the Central Washington, said Dottie Hildebrand, development coordinator for the facility program.
It currently has contracts with hospice agencies in Yakima and Kittitas counties. The Lower Valley's Heartlinks program is one of the agencies with a contract with the Cottage, Hildebrand said.
In addition to offering end of life hospice care, the facility's medical staff is available 24/7 to help individuals manage their medications and to provide respite care for family caregivers.