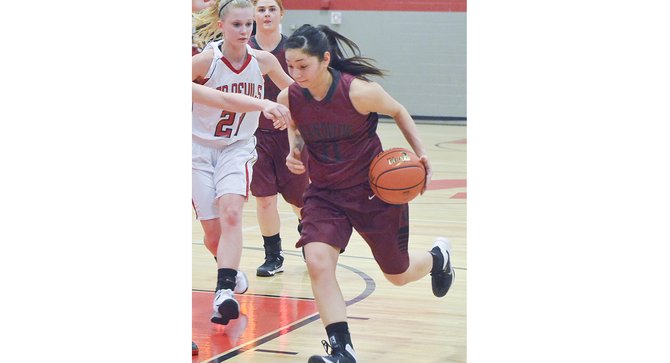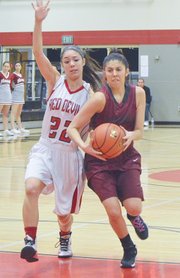 A fourth loser-out game in less than 10 days proved one too many for the Grandview Lady Greyhound basketball team, which ended its season last Saturday with a 64-43 loss to West Valley.
Grandview had battled through a loser-out three-way tie breaker earlier this month and then knocked off Ephrata a week ago in a loser-out contest to set up last weekend's shot at advancing to State regionals.
Grandview advanced to Saturday's District tourney finale in Sunnyside against West Valley (loser-out, winner to Regionals) by nipping East Valley 45-43 on Friday.
Marissa Caballero sparked Grandview to victory over the Red Devils on Friday with 16 points. None were bigger than the game-winning points she drained with two seconds to play.
"To say that I was proud of the girls would be an understatement," said Grandview Coach David Gibb. "We came up with a game plan and it was executed to near perfection against a team that is disciplined and well coached."
Gibb said it was obvious from the opening tip of Friday's loser-out contest that Grandview wasn't ready for its season to end.
"We wanted to make sure we put ourselves in a position to win in the end," he said.
The Lady Greyhounds did just that with help from Breana Lopez, who shared team-high scoring honors with Caballero with 16 points.
Jamila Shafer and Samantha Grove each tallied 4 points for Grandview on Friday, but made their biggest contributions in the paint by hauling down 10 and nine rebounds, respectively.
With a berth in the Sweet 16 on the line last Saturday, Grandview struggled to match up against the Rams' larger line-up in the 64-43 loss.
Caballero did most of the damage for Grandview on Saturday with a game-high 29 points.
"I am proud of the girls and their toughness," Gibb said of the Lady Greyhounds, who finished the season with a record of 12-12. "I was glad we could send the seniors out with an experience they will never forget."