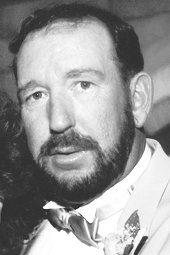 Laurel "Sonny" Hopper, 70, of Yakima went to sleep until the return of the Lord on Monday, Feb. 17, 2014.
Sonny was born March 23, 1943 in Gassville, Ark. to Laurel and Ruth Hopper. Sonny grew up farming with his family in the cotton harvest in Arkansas and in the fruit harvest in Washington. The family eventually settled in the Lower Yakima Valley.
Sonny attended Granger High School and then joined the U.S. Navy. While stationed in California he met up with his high school friend and neighbor from Granger, Lois Bush, who was attending Paradise Valley Adventist nursing school. The two were soon married and had three children.
Sonny worked on cars and tractors along with farming and came back to Eastern Washington to raise his family. They moved to Grandview in 1972.
He was a hard worker and worked various jobs with Anderson Motors, New Holland, Case Equipment, Simplot and eventually started his own business, Valley Agriculture in Sunnyside.
Sonny later married Phyllis Robert. They have resided in Yakima for the last 25 years.
Sonny was very personable and knew a great many people in this valley, especially the farmers he worked with.
Sonny's hobbies included fishing, boating, hunting and camping with his family. He loved country music and would often sing out loud to his favorites. He was very hospitable and loved people and to have all the extended family over for barbecues and holidays. He was a favorite among the cousins, nieces and nephews and would often have them over to stay the summer. His home was often filled with many family and friends.
Sonny is survived by his wife, Phyllis Hopper of Yakima; brother, Garry (Glenyce) Hopper of Sunnyside; two sons, David Hopper (Dianne Stern) of Bonney Lake and Stephen Hopper (Rainey Hulet) of Phoenix, Ariz.; one daughter, Brenda (Eric) Armstrong of Grandview; one stepson, Chris (Kara) Tucker of Grandview; two stepdaughters, Kathy (Bob) Hurst and Andi (Chris) Greer, both of Sunnyside; 16 grandchildren; five great-grandchildren; and many nieces and nephews.
He was preceded in death by his parents, Laurel and Ruth Hopper; one brother, Arthur (Duke) Hopper; and two nephews, Allen Hopper and Daniel Hopper.
There will be a military graveside service held Friday, Feb. 28, 2014, at 11 a.m. at Lower Valley Memorial Gardens in Sunnyside.
Those wishing to sign Sonny's on-line memorial book may do so at www.funeralhomesmith.com.
Smith Funeral Homes Ltd. and Crematory in Sunnyside is in charge of arrangements.
More like this story