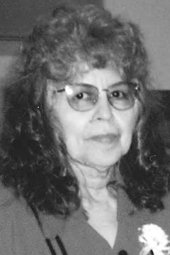 Maria C. (Chela) Gonzalez, 80, of Grandview our loving mother, sister, grandmother and great-grandmother went to be with the Lord on Thursday, Feb. 20, 2014, surrounded by her loving family.
She was born Dec. 16, 1933 in Edinburg, Texas to Martin and Emeteria Gonzalez.
She was a farmworker who traveled many states following the harvests, before making her home in Washington state, where she married Andres Gonzalez in Prosser.
She was a dedicated wife and mother who raised nine children and cared for many grandchildren.
Maria enjoyed being with all her family and caring for everyone. She loved seeing her family together which brought her the most joy. Every Saturday, our mother and father went dancing with all their dearest friends. She enjoyed Mexican music. Mom was loved by everyone and had many longtime friends throughout her life.
Maria is survived by her children; five daughters, Belinda (John) Gomez, Romie (David) Swails, Irma (Rick) Gonzalez-Ramos, Dahlia (Dustin) Shattuck and Becky Gonzalez; four sons, Pete (Rosemary) Ozuna, Robert Ozuna, Johnny Ozuna and Tony (Angela) Gonzalez; three sisters, Maria de La Luz Trevino, Clara M. Gonzalez Salas and Maria M. Gonzalez; three brothers, Benito M. Gonzalez, Silverio M. Gonzalez and Roberto M. Gonzalez; 19 grandchildren; and 22 great-grandchildren.
She was preceded in death by her husband, Andres Gonzalez; her parents, Martin and Emeteria Gonzalez; and brothers, Jose Gonzalez, Alfredo Gonzalez and Francisco Gonzalez.
A special thanks to family and friends for all their support. We express our sincere gratitude and appreciation to Prosser Memorial Hospital for their extraordinary care of our mother and the accommodations for all our family. The Prosser Memorial Hospital staff demonstrated great compassion and service beyond their duties to comfort all of us in our time of need.
A memorial service celebrating Maria's life will be held Thursday, Feb. 27, 2014, at 10 a.m. at Grandview Smith Funeral Home Chapel, with burial to follow at Grandview Cemetery.
Those wishing to sign Maria's on-line memorial book may do so at www.funeralhomesmith.com.
Smith Funeral Homes Ltd. and Crematory in Grandview is in charge of arrangements.
More like this story