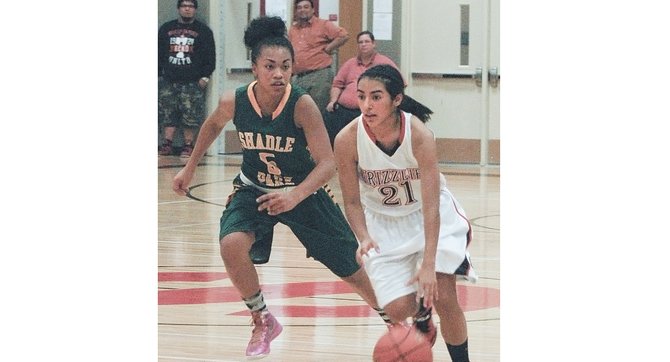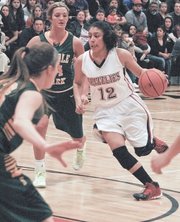 It would come as no surprise if a construction crew had to be called in to reattach the roof to the Sunnyside High School gymnasium. That's because the SHS faithful blew the lid off the place this past weekend.
With frequent and thunderous chants of "GRIZZ-LY POW-ER" bouncing off the gym walls, the Sunnyside girls basketball team delivered for the large and vocal crowd, sweeping aside two worthy opponents. In the process, the Lady Grizzly hoopsters won the Class 3A District 5/8 Regional championship.
Sunnyside's girls now find themselves in the WIAA's version of the "Sweet 16." It's been 12 years since a girls hoop team from Sunnyside High School has advanced that far.
The Lady Grizzlies now move on to play Auburn Mountainview this coming Saturday, March 1, at Yakima's Eisenhower High School. Game time will be at 6 p.m. The winner of that 3A State sectional match-up, a loser-out affair, will secure one of the eight coveted berths to the State tournament in the Tacoma Dome, scheduled for March 6-8.
Sunnyside, now 20-3 on the season and riding a 10-game winning streak, earned the District 5/8 Regional title by knocking off both Shadle Park and Kamiakin this past weekend.
In Friday's Regional semi-finals, the Lady Grizzlies bounced an extremely talented bunch from Spokane's Shadle Park High School, 84-73. Saturday, in the Regional championship game, Sunnyside undressed the state-ranked Braves from Kennewick, 65-58.
Both victories were the result of extremely tenacious defensive play on the part of the Lady Grizzlies. Especially so Saturday evening against Kamiakin, when Sunnyside erased a second-half, seven-point deficit by creating numerous turnovers.
While it was clearly a team effort that forced the Braves into committing the many miscues, it was junior Jordan Rodriguez who set the tone. She finished Saturday's title tilt with a team-best four steals.
It was also Rodriguez, as well as junior Selena Rubalcava, who came through big time offensively at the end of the game Saturday. Each of the two dropped in six points in the fourth quarter, all from the free throw line, in helping Sunnyside outscore the Braves by a 21-15 margin down the stretch.
Overall from the charity stripe in the final period, the Lady Grizzlies sank 17-of-20 shots to keep Kamiakin at bay.
Rodriguez, who also grabbed four rebounds against the Braves, ended up tallying 14 points.
"Jordan has really bought into what we're trying to do," said SHS Coach Rick Puente. "She, as well as the rest of the team, plays very unselfish ball.
"Jordan is a true team leader," he said.
Puente was just as effusive with his praise for the team's lone senior, Vanessa Alvarez, who popped in 6-of-8 shots from the field Saturday in piling up a team-high 15 points.
"Before the game, the way Vanessa was carrying herself, I figured she was ready to have a good game," Puente said.
"She has been pretty efficient lately," he added. "She's one of the sparkplugs on the team."
It also didn't escape Puente's attention that when Alvarez was on the floor, Kamiakin standout Sira Toure had a tough time in getting to the hoop. Most of the 12 points Toure scored came when Alvarez was on the bench.
"Vanessa is feisty," said Puente, describing Alvarez's defensive coverage on the Kamiakin scorer. "She's a game changer," he said.
Junior Tiana Perez, likewise, continued to turn quite a few heads this past weekend. She dropped in 8 points and pulled down a team-high six rebounds in the seven-point margin of victory over the Braves.
The 5'10" Perez also turned in a heady performance the night before in Sunnyside's 84-73 win against Shadle Park. She recorded a double-double by scoring 12 points and snatching 10 loose balls off the glass.
Puente concurs with many fans' assessment that Perez has elevated her game to a whole new level the last five or six games.
"We always knew Tiana had it in her," he said of Perez's new found, attacking, no-nonsense style of play inside the paint.
"With Tiana giving us an inside presence, it really benefits us when we're searching for those open looks from outside," said Puente.
"With Tiana, I think it's her more aggressive defensive play of late that has sparked her offensive output," he added.
The three other pistons that keep the Lady Grizzly locomotive steaming down the tracks – Rubalcava, Natalia Bazan and Emilee Maldonado – made their presence felt, too, this past weekend.
The 5'4" Rubalcava went off for 16 points on Friday against the Shadle Park Highlanders, chipping in another 8 against Kamiakin.
Rubalcava's biggest splash came in the opening quarter against the Highlanders, when Sunnyside jumped out to a 28-17 lead. She scored the Lady Grizzlies' first five points of the game on a trey and two free throws, then took the wind out of Shadle Park's sails with another 3-point bomb just before the first quarter expired.
Rubalcava, as she did Saturday against Kamiakin, also plopped in six free throws in the final stanza against the Highlanders.
Bazan is yet another of the four juniors who start for Sunnyside. As she has done all season, the 5'6" playmaker was more than adept at bringing the ball up the floor for the Lady Grizzlies this past weekend. And, as is often the case, she created plenty of turmoil when Sunnyside chose to attack both the Highlanders and the Braves with its full-court press.
Offensively, Bazan totaled 10 points Friday against Shadle Park, seven of those coming in the first half, when Sunnyside built a 50-33 lead. Bazan added a 4-point effort against the Braves on Saturday.
Maldonado, a freshman who stands just a hair taller than five foot, contributed mightily as well in Sunnyside's two victories this past weekend. She canned 13 points in each of the two games, knocking down one 3-pointer against Shadle Park and another three treys against the Braves.
"All 12 girls on our roster are producing something special," said Puente.
"It's been a great ride, and it's not done," he said.
Puente said one of Sunnyside's goals this season has been to come prepared for the team that is next up on the schedule, not to look ahead. "After last Saturday's game, after the immediate celebration, the only talk among the girls was about getting ready to go back to work on Monday.
"We really don't know anything about Auburn Mountainview yet, but that's the team next up for us.
"It's one game at a time, and that's the one we'll be preparing for this week in practice," he said.
What is known about the Lions is that they won the 3A South Puget Sound League title this year, just the third time Auburn Mountainview has claimed a conference championship. The Lions are coached by Dustin DePiano. The team's top three players include Aly Carr, who earned first team all-league honors this season, as well as all-league honorable mention selections Molly Cichosz and Sammi DePiano.
Auburn Mountainview and Sunnyside also had a common opponent this season, that being the Grandview girls basketball team. The Lady Greyhounds defeated the Auburn club by a 54-51 score in the Yakima Valley SunDome back on Dec. 7, in both teams' season openers. Three days later, on Dec. 10, the Sunnyside Lady Grizzlies walked out of the Grandview gym with a 71-53 victory against the 'Hounds.
Shadle Park 17 16 14 26 -73
Sunnyside 28 22 13 21 -84
2-PT FG – Shadle Park 23/47, Sunnyside 16/38. 3-PT FG – Shadle Park 5/21 (Hayes 3), Sunnyside 6/18 (Rubalcava 2, Rodriguez 2, Maldonado 1, Bazan 1). FT – Shadle Park 12/17, Sunnyside 34/43). RBD – Shadle Park 26, Sunnyside 30 (Perez 10, Rodriguez 5, Bazan 5). TO – Shadle Park 10, Sunnyside 12.
Shadle Park – Winter Hayes 18, Rashae Williams 4, Shalise Hicks 25, Sam Foote 7, Amanda Konynenbelt 10, Shyla Carr 9
Sunnyside – Mireya Herrera 0, Vanessa Alvarez 8, Summer Hazzard 0, Jasmine Lua 0, Jazel Trevino 0, Natalia Bazan 10, Selena Rubalcava 16, Emilee Maldonado 13, Jessica Mendoza 4, Jordan Rodriguez 21, Tiana Perez 12
Kamiakin 12 17 14 15 -58
Sunnyside 14 13 17 21 -65
2-PT FG – Kamiakin 25/36, Sunnyside 16/33. 3-PT FG – Kamiakin 0/8, Sunnyside 7/23 (Maldonado 3, Rodriguez 2, Rubalcava 1, Alvarez 1). FT – Kamiakin 8/11, Sunnyside 12/14. RBD – Kamiakin 28, Sunnyside 19 (Perez 6, Rodriguez 4, Maldonado 4). TO – Kamiakin 11, Sunnyside 11.
Kamiakin – Lindsay Schauble 11, Holly Ellison 5, Melanie Oord 4, Sira Toure 12, Tabitha Wellsandt 8, Amanda Miller 16, Kelsey Crandall 2
Sunnyside – Vanessa Alvarez 15, Natalia Bazan 4, Selena Rubalcava 8, Emilee Maldonado 13, Jessica Mendoza 3, Jordan Rodriguez 14, Tiana Perez 8