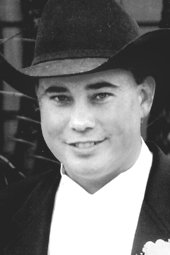 Peter Allen LaPierre, 39, of Grandview passed away on Friday Feb. 21, 2014.

He was born Nov. 29, 1974 in Sunnyside to Beverly Sue and Gary George LaPierre. He grew up in the Mabton area and was a part of the class of 1993.
He had worked many jobs, from busting tires at Les Schwab to running cables and installing equipment in the phone offices of Seattle and around the state of Oregon. He currently worked at Roza Irrigation District.

Pete lived life to the fullest. He loved to rope off and ride his beloved horses Blue and Ruby. He also loved to shoot at anything moving or stationary. Hunting and fishing were also high on his priority list. His coyote, deer, and elk trips were a yearly event that he loved dearly. He did everything with that "Pete LaPierre" grin and those piercing blue eyes.

There is not a person around that doesn't have a "Pete" story to tell, whether it was a coyote misadventure or a fishing tall tale. He truly touched the lives of so many people. He always made time for his family and friends. Especially his nieces and nephews. Side by side, he walked with their hand in his. He had endless hugs and kisses for them all. He made all of the children feel so special.
For all of us, this passing is far too soon. He was not only a companion, son, brother and uncle; but was a best friend to us all. We shall all carry a piece in our hearts for that cowboy with the silver hair and bright blue eyes.
He is survived by his mother, Beverly LaPierre; fiancée, Sherry Ricard; three brothers, Kenneth (Kristi) LaPierre, Shane (Celine Wicke) LaPierre, Gary (Amy) LaPierre; two sisters, Cindy (Mike) Chester and Tammy Still; nieces and nephews, Kelsey, Hayden and Logan LaPierre, Scotty and Jesse Espinoza and Shelby Hays, Samantha and Bella Schlosser and Jacob Dibbert and Bailey Morris, Aspen, Rein and Chris Cox, Janine, Grace and Beverly LaPierre, Mason, Henry, Benjamin and Abigail LaPierre; much more family; and close friends.
Pete was preceded in death by his father, Gary George; and a whole tribe of LaPierre's. He will be joining them around the branding fire with his rope, rifle and riggin. He will always be a fully dressed Cowboy.
In lieu of flowers, please contribute to The Pete LaPierre Memorial fund. Proceeds will go to the Grandview Rodeo Team Roping event.
A memorial service in remembrance of Pete's life will be held Friday, Feb. 28, 2014, at 1 p.m. at Grandview Nazarene Church in Grandview, followed by inurnment at Lower Valley Memorial Gardens in Sunnyside.
Those wishing to sign Pete's online memorial book may do so at www.funeralhomesmith.com.
Smith Funeral Homes Ltd. and Crematory in Sunnyside is in charge of arrangements.