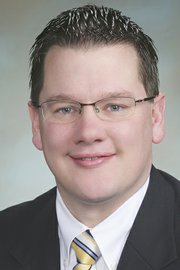 NACHES - State Rep. Charles Ross (R-Naches) has decided he will not run for a fifth term in the Washington State House of Representatives, opting instead to throw his hat in the ring to replace retiring Yakima County Auditor Corky Holloway.
Among Ross' supporters in the courthouse are all three commissioners — Mike Leita, Rand Elliott and Kevin Bouchey — as well as Sheriff Ken Irwin, Prosecuting Attorney Jim Hagarty, County Clerk Kim Eaton and County Coroner Jack Hawkins.
"I am honored that many of the people responsible for running Yakima County are endorsing me for auditor," he said. "These are the elected officials who know what the job requires. I am glad to have their support."
Ross, 42, is leaving the state House of Representatives in order to spend more time with his family. "The most important job I have is being a dad and a husband and that has gotten harder to do as my boys grow up and as sessions in Olympia go longer and longer," he said.
"I don't want to be a weekend dad for almost half the year," he added. "That's why I made this decision."
Ross and his wife, CarriAnn, have two sons: Vincent, 11, and Lucas, 9,
"I am committed to public service," said Ross, "and want to continue to serve my neighbors. That is why I want to be the next auditor.  It is an important job and I believe that I have the qualifications and experience to do it well."
Ross has been a state representative for eight years.  Before that, he was a member of the Naches Town Council.