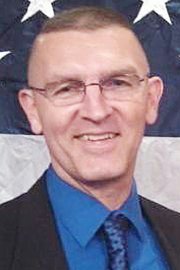 Lt. Brian Winter of the Yakima County Sheriff's office this past Tuesday announced his candidacy for sheriff.
Yakima County Sheriff Ken Irwin has already said he will not seek re-election this fall.
Winter has worked for the sheriff's office since 1991, spending many of his early years as a deputy serving the citizens of the Lower Yakima Valley.
"Sheriff Irwin used to joke I was sheriff of the Lower Valley," said Winter, who is a firm believer in community policing.
He said that belief is the reason he will continue the relationship the sheriff's department developed with the Outlook community, as well as other unincorporated communities, such as Parker.
"I'm all about partnerships and bridge building," said Winter.
He said working with community members is highly important and the relationships developed are about helping small communities.
Winter, who served in the U.S. Marines, reaching the rank of lieutenant colonel, grew up in Harrah. His father is now living in Sunnyside.
With such strong ties to Yakima County communities, he believes he can make a difference, serving as Yakima County sheriff.
"I believe I have a track record…that shows I care about the people (of Yakima County) and staff (at the sheriff's office)," said Winter.
He said he has shown leadership both in the Marines and as a sheriff's deputy.
Winter said there are challenges in the sheriff's office, but topping his list are the fiscal challenges.
"The commissioners control the budget," said Winter.
He said it is unknown what the Yakima County commissioners will determine to allocate the sheriff's office, but discussions have already begun. Those discussions, he said, "…are centered on efficiencies."
Winter said the department has been looking at minor restructuring and possibly holding on to department vehicles longer to provide additional funding for staff.
"Restructuring may also help with morale and opportunities for promotion," said Winter.
He also believes building and maintaining the public trust is a challenge that tops his list of priorities.
"We admit we have made mistakes, but are working to fix them," said Winter.
Winter said it is important for the public to maintain high standards, expecting its law enforcement officers to be accountable for their mistakes.
Because the sheriff's office acknowledges its mistakes, Winter said he was part of the effort to surpass expectations when being accredited by the Washington Association of Sheriffs and Police Chiefs.
"We met 131 standards," said Winter, stating that surpasses the requirements established by state law.
"I credit Sheriff Irwin for leading the department to accomplish that goal, raising the bar."
Winter will face some opposition in the coming bid for sheriff. Also planning to have their names on the ballot are Sheriff's Deputy Steve Changala and Tieton Police Chief Jeff Ketchum.
The filing deadline is the week of May 12-16.