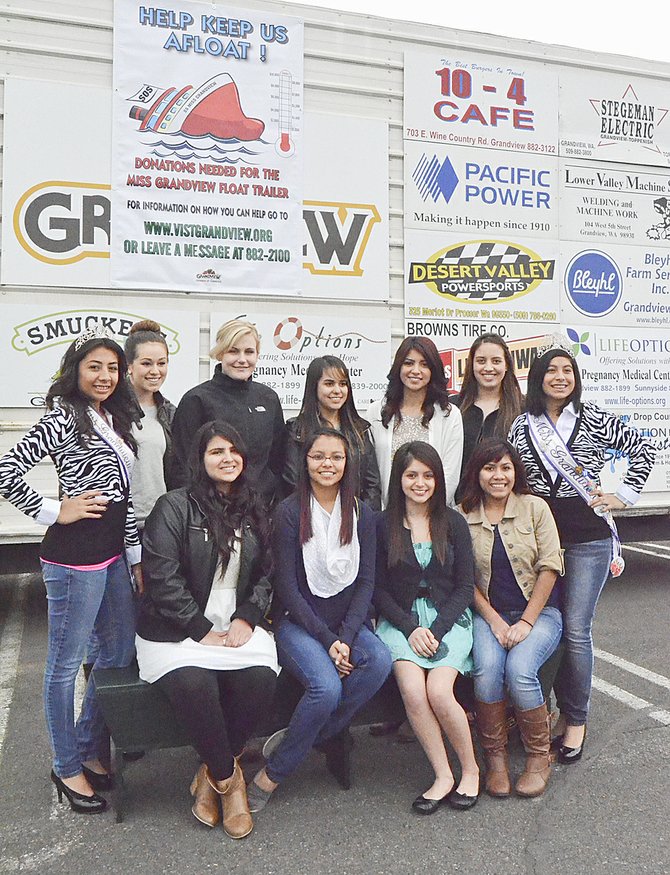 GRANDVIEW – The Grandview community float needs a new trailer.
That's according to Miss Grandview Director Andrea Hendrickson.
She and members of the court, as well as the candidates for the 2014-15 title are seeking support from the community. They would like to purchase a new trailer.
"We need to raise $10,000," said Hendrickson.
Hendrickson's husband, Lonnie, said the current trailer is rotting from the inside out. It has a bad winch, there are holes in the ramp used to move the float in and out of the trailer, the axles are sagging "…and it's unsafe."
He said, "The trailer is more than 30 years old."
Mr. Hendrickson said the sponsors whose signs are displayed on the trailer support the Miss Grandview scholarship program, "…not maintenance."
That is why the Miss Grandview program needs to raise the funds needed to purchase a new trailer.
Currently, the program is working with organizers of the annual Mother's Day carnival that takes place at Grandview's Country Park. Mr. Hendrickson said the Miss Grandview court and contestants may help with the event, raising some of the money needed for the new trailer.
"The Miss Grandview court is just really busy and we haven't yet decided what other fundraisers we might plan," said Mr. Hendrickson.
However, there is a way for the community to donate money to help the program. Community members can visit the Grandview Chamber of Commerce website (visitgrandview.org) or send donations to Grandview Chamber of Commerce, PO Box 717, Grandview, WA 98930.
"It's a community float and we need the community's help," said Hendrickson.