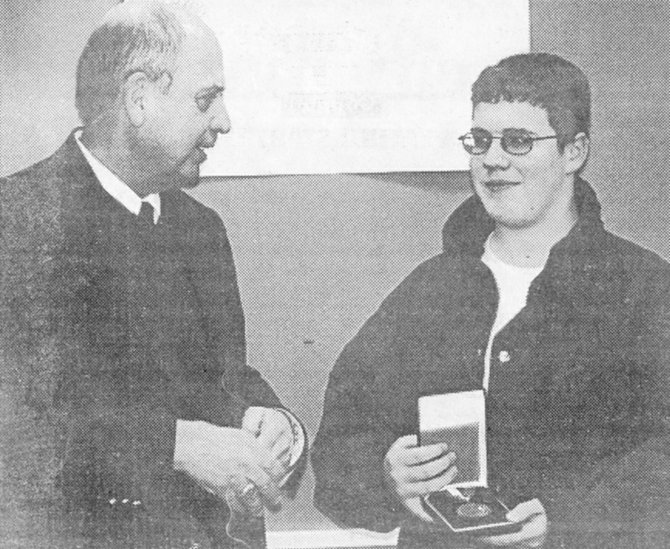 Over the Shoulder
A look back in time from the files of the Sunnyside Daily Sun News and Sunnyside Sun
110 YEARS AGO... (1904)
Frank Vetter, while cleaning a bed chamber above his Sunnyside restaurant, knocked a .38 caliber revolver from a table. The gun discharged and a bullet entered the bone above his ankle.
100 YEARS AGO... (1914)
W.S. Wood, who served for seven years as supervisor of the Fairview mission farm in Natal, Africa, made his home in Sunnyside and was the guest speaker at the Presbyterian church.
Clayton Westfield tried to ride his horse into the parlor of the Sunnyside Hotel. He was prevented from doing so and fired five shots from his revolver into the room. He was jailed after being unable to pay a $100 fine for his actions.
90 YEARS AGO... (1924)
The first couple to marry in Sunnyside, Mr. and Mrs. William T. Stobie, hosted a family reunion, also a late celebration of the couple's 30th wedding anniversary. The couple was married on Dec. 2, 1894.
A gasoline station was constructed by Ed Durnam and Ray Tallman on the corner of Sixth Street and "D" in Sunnyside.
80 YEARS AGO... (1934)
The First National Bank of Sunnyside announced it became a member of the Federal Deposit Insurance Corporation, insuring deposits of $2,500 or less.
A.M. Murfin was named Sunnyside police judge by Mayor Amundson, filling the vacancy left by former judge Arnold Cobley, who resigned.
70 YEARS AGO... (1944)
Betty Jean Gardner of Sunnyside was named to the cast of "Cry Havoc," produced at Washington State College.
Sunnyside's W.B. Bridgman of Upland Winery was named to the U.S. Office of Price Administration's wine advisory committee.
60 YEARS AGO... (1954)
The first baby to be born at Valley Memorial Hospital for the year was Leroy Halterman, son of Sunnyside's Mr. and Mrs. Oliver Halterman.
Lesley Mathews escaped injuries when he crashed his car into Sunnyside's Dairy Mart, owned by Tim Amundson, on New Year's day.
50 YEARS AGO... (1964)
Dr. A.A. Clevenger was elected chief of staff at Sunnyside General Hospital. Dr. G.A. Dierdorff was named the head of the department of surgery, and Dr. P.J. Swofford became head of the department of anesthesiology.
Bill Sheller of Sunnyside, a freshman at Oregon State University, marched in the Rose Bowl Parade with the university's marching band.
40 YEARS AGO... (1974)
Sen. Damon Canfield (R-Sunnyside) retired from the state legislature after District 8A was realigned to include all of Benton County, leaving him without a district.
30 YEARS AGO... (1984)
Don Hughes was elected to a fifth term as mayor by the Sunnyside City Council. Elected as mayor pro tem was Errol Brown.
20 YEARS AGO... (1994)
More than 400 teens attended Sunnyside's annual New Year's Eve Midnight Live event.
Arnold Munoz of Sunnyside was outside, celebrating the New Year, when he accidentally shot himself in the foot. He fired three rounds from his .22 caliber pistol in the air, returned the weapon to his pocket and was removing his hand from the weapon when it discharged.
10 YEARS AGO... (2004)
Pianist and composer Scott Kirby held a workshop for Lower Valley music students as part of his visit to Sunnyside as the Lower Valley Community Concert's featured artist.
Sunnyside Assistant City Manager and City Attorney Mark Kunkler was named interim city manager in the wake of City Manager Dave Fonfara's resignation.