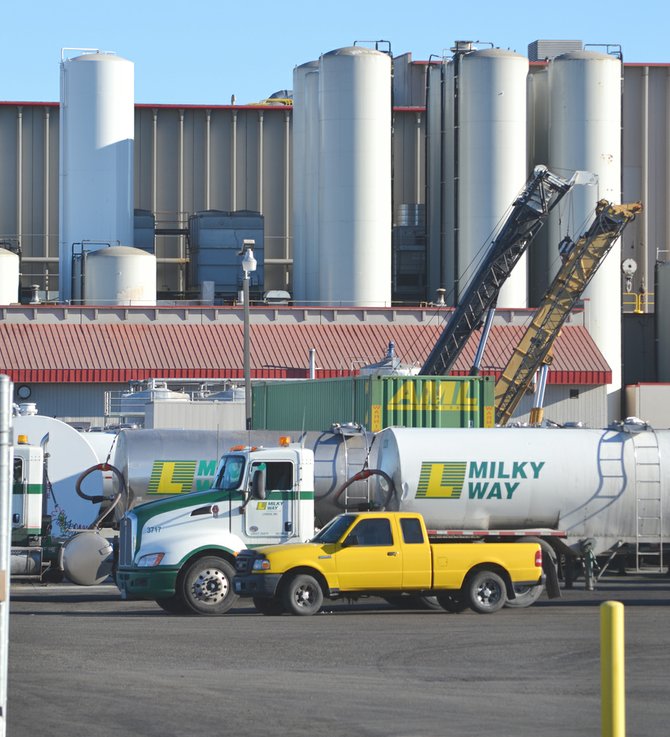 Sunnyside's Darigold plant is getting a jump start on 2014, as the site at 400 Alexander Rd. received a green light last month for a $5.2 million project to expand its milk receiving bays.
That's according to building permits issued by Sunnyside city officials during the month of December 2013.
Darigold's expansion accounted for all but about $300,000 of the combined $5,521,018 in valuation for December's building permits.
Likewise the project, which lists Design Group Facility Solutions of Concord, N.H. as the contractor – was responsible for the bulk of permit fees Sunnyside received last month.
Overall, city coffers garnered $45,413 in permit fees for December 2013, with Darigold's project accounting for $34,571 of that total.
The other prominent building start getting thumbs up last month was for a new, single family home at 1212 South St.
The home, which lists Character Homes Construction of Grandview as the contractor, has a valuation of $224,624. The 2,184 square-foot house generated $2,799 in permit fees. In related permits issued for the new home, city officials also gave the nod for a water meter, backflow device and 525 square feet of sidewalk.
The month of December also saw permits granted related to commercial projects. Those included a $17,000 fabrication shop at 333 Midvale Rd., a mechanical permit for Sunnyside Community Hospital's new sleep center, improvements at 2640 E. Edison Ave. #4 to create commercial tenant space and a plumbing permit for the Safari Restaurant being rebuilt at 616 E. Edison Ave.
For the month of December, Sunnyside planning officials issued 28 permits related to building projects. For all of 2013, the city granted 412 building permits. That's up from 328 greenlighted in 2012.
Sunnyside's new building valuation total for 2013 was $29.7 million and the city netted $306,832 in permit fees.
Both totals are markedly higher than 2012, which saw $9.5 million valuation for all new building starts and $94,000 in permit fees.
Further, city officials issued 1,522 permits in 2013 related to code enforcement issues, up slightly from the 1,499 in 2012.
Higher valuation for new construction in Sunnyside during 2013 was driven not only by Darigold's expansion, but also by plans for a new Lower Valley Credit Union branch office, a new juice processor at Valley Processing, an MRI center at Sunnyside Community Hospital and a remodel at Speck's.
Further, more than a third of all new building valuation permitted last year launched in just one month, May.
It was in May 2013 when Yakima Valley Farm Workers Clinic and Neighborhood Health Services began large projects, plus plans were approved for the $3.3 million Sunnyside Fire Station and the new $4 million YV-Tech Skills Center.