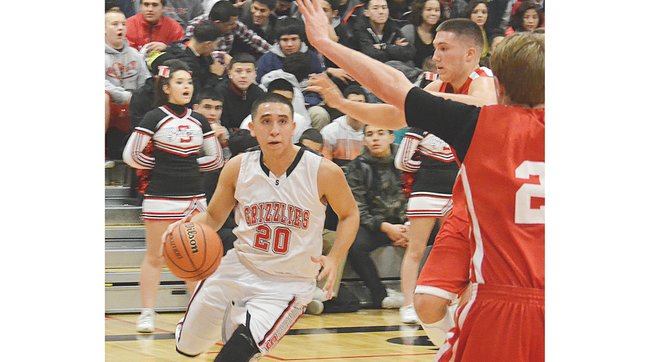 Visiting Prosser made an early run hold up last Friday, as the Sunnyside Grizzly hoop team fell 57-52.
For the Mustangs, the win was their first of the season.
The Mustangs galloped out to an 18-7 first quarter lead and never looked back.
Sunnyside, though, made things plenty interesting with a 16-10 run in the second stanza to trail just 28-23 at the half.
Isaiah Fernandez scored 10 of his team-high 14 points in the first half to help keep the Grizzlies close.
Sunnyside made things even more uncomfortable for the visitors by pulling within just two points, down 41-39, heading into the final eight minutes.
"We made some adjustments to the guys on the floor, and those coming off reserve gave us aggressive and consistent basketball," said Sunnyside Coach Geoff LaBrant. He noted that getting the ball into the post was a point of emphasis for the Grizzlies.
On defense, Sunnyside also enjoyed success with a few tweaks.
"We changed our press attack over halftime to adapt to Prosser's break and came out with more intensity and made some key stops," said LaBrant.
Sunnyside had its chances to prevail in the final frame, but came up short.
"We had some let-ups in the fourth and a series of key possessions that were a little chaotic," LaBrant said. "Those things contributed to preventing us from winning."
He also credited the Mustangs for their play inside in tallying second-chance points.
Sunnyside found it tough to stop the Prosser twin towers of 6-5 Mason Schutt and 6-4 Kooper Blair, as they combined for 31 of the Mustangs' 57 points.
Besides Fernandez's 14 points, Estevan Salmeron tallied 11 points for Sunnyside to go with a pair of steals.
Ryan Pike was strong in the paint for the Grizzlies with 8 points and a team-high four rebounds. Teammate Leo Palacios also scored 8 points, while Marcus Sanchez dished out four assists and snagged two steals for the Grizzlies.
Sunnyside (1-7) returns to league action this coming Friday and Saturday at Eastmont and Davis, respectively.