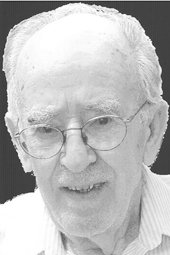 Don Camp, 86, of Prosser passed away after an extended battle with Parkinson's disease at his son's home in Prosser, on Saturday, Jan. 4, 2014, surrounded by his family.
Don was born Nov. 9, 1927 in Freck, Ark. to David Jackson Camp and Elva (Shipman) Camp. He came to Washington state as a young man. Don shared many memories of his youth in Yellville, Ark. from hunting squirrels to delivering mail in his Jeep.
He followed his brothers to Washington looking for new opportunities and adventure. He met and married his one true love, Lorraine Allen on July 5, 1949, in Granger. Don made a home for his family in the Grandview and Sunnyside areas. He took his family home to Arkansas every summer for many years and loved the Ozark area where he grew up.


Don received his education in Arkansas and worked for many years as an electrician/electrical contractor in the Yakima Valley. His real passion was his farm. He enjoyed working with farm animals and raising livestock on his farm. He had horses, dogs, cattle, swine and sheep throughout his lifetime.

His family members would like to express their appreciation to hospice workers for their compassionate care and kindness to Don and his family.
Don was a good husband, father, grandfather and great-grandfather and will be missed by all.
He is survived by his wife of 64 years, Lorraine Camp; son, Randy (Jean) Camp of Prosser; daughter, Kathy (Vince) Charvet of Grandview; daughter, Dawn (Jeff) Wegeleben of Colville and Penny (James) Devlin of Baker City, Ore.; eight grandchildren, Lance (Angela) Camp, Corey Camp, Chelsea (Travis) Dallman, Nick (Ashton) Wegeleben, Courtney Wegeleben, Danielle Charvet, Sean Charvet and Alissa (Chad) Keller; seven great-grandchildren, Ayla, Randy Clay and Kenna Kae Camp, Sawyer and Samuel Dallman, and Emma and Audrey Keller; brother, Bob (Betty) Camp of Missouri; and numerous extended family members.
He was preceded in death by his parents; two sisters; and two brothers.

Viewing and visitation will be held Thursday, Jan. 9, 2014, from 1 to 3 p.m. at Smith Funeral Homes LTD in Sunnyside. Funeral services will be held Friday, Jan. 10, 2014, at 10 a.m. at Smith Funeral Home in Sunnyside, with burial to follow at Lower Valley Memorial Gardens in Sunnyside.

Memorial contributions can be made to Lower Valley Hospice in Sunnyside.
Those wishing to sign's Don on-line memorial book may do so at www.funeralhomesmith.com.
Smith Funeral Homes LTD. and Crematory in Sunnyside is in charge of arrangements.
More like this story