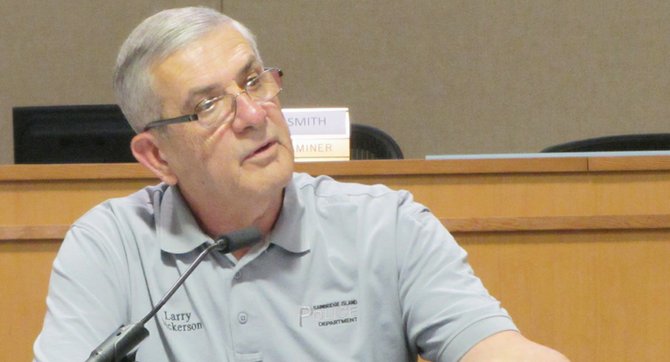 Sunnyside City Manager Don Day has made a decision to start the search for a police chief "…from scratch."
Yesterday (Monday) he said he has decided to appoint a new interim police chief to assess and evaluate the Sunnyside Police Department operations to make the search fair.
That individual, Larry Dickerson, hails from Olympia. Day said Dickerson is a retired Lacey Police Department police chief and currently works as an accreditor for the Washington Association of Sheriffs and Police Chiefs.
"He conducts assessments for them according to Washington state criteria," said Day.
Dickerson most recently worked in Bainbridge Island to sort out issues at the city's police department. He has also worked as an interim police chief in Union Gap and Wasilla, Alaska.
"He has been the interim police chief for seven cities," said Day.
The contract for Dickerson's services needs to be approved by the Sunnyside City Council and will be on the agenda for the Monday, Jan. 13, meeting. Day said he has contacted council members via e-mail about his decision.
Dickerson will receive $60 an hour plus the use of a car, dry cleaning expenses and RV space for his time, up to six months, working for the city.
"I expect the new search to take between three and four months," said Day. "Dickerson will not be here for more than six months."
Deputy Police Chief Phil Schenck has been Sunnyside's top cop since the end of March 2012, when then Police Chief Ed Radder retired. Interim City Manager Frank Sweet attempted to hire a new police chief during that time but was stymied by various issues, including one of his top candidates choosing another job.
Because Day was working with a list of police chief candidates that was gathered before he was hired midway through 2013, he said he "…was not satisfied with the process."
He said the process of choosing a police chief from the list was drawn out and he doesn't believe a decision can be properly made without first evaluating the operations of the police department.
Day said Dickerson's more than 40 years of experience as a law enforcement officer "…brings a wealth of information and experience to Sunnyside."
He said Dickerson will evaluate the operations of the police department while Day conducts a new search for a permanent police chief.
The reorganization of the police department will also wait until Dickerson has a look at the current situation and can give input on it.
Included in the list of final candidates during the last search were Schenck, former Bainbridge Island Police Commander Sue Shultz and former Monte Vista, Colo. Chief of Police Rick Needham.
Day said he's disappointed in himself for the extra time the process is taking.
"I think I could have done better," he said. "I'm kicking myself for not starting from scratch from the get-go. But I didn't want to leave any stone unturned.
"I'd rather make a slow decision than a wrong decision."
Day joked that with his own experience in law enforcement he's considered appointing himself police chief. Instead, he's been trying to take a hands-off approach. His interviews with the public and with Sunnyside officers have convinced him that a closer look needs to be taken at the department.
"Issues have come up in my interviews," he said. "The worst I could do now is appoint someone for chief and set them up for failure. We must take the extra time and get it right."