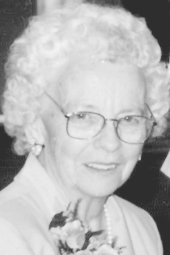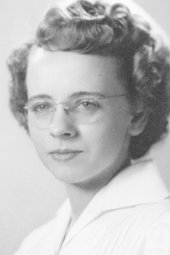 Pearl Seebeck, known to us all as Precious Pearl, finally went home to the Lord on Saturday, Jan. 4, 2014 in Sunnyside at the age of 94 after a rich, long life.
She was born Dec. 6. 1919 in Grundy Center, Iowa to Bert and Anna Roskamp and grew up with a sister, Theressa, and two brothers, Charles and Herman.
She graduated with an R.N. degree from a nursing college in Chicago, Ill.
She moved with her family to Washington state and had a nursing job in Seattle for some time. She ended up settling in Outlook for the next 50 years, marrying her sweetheart, George Seebeck. They had five children, owned a farm with cattle and crops: asparagus, grapes, corn, mint and hay. She was dad's forewoman on the farm, keeping her five children in line and doing their chores while dad worked his day job. She used her nursing skills on her children and we benefitted from her backrubs and wonderfully skilled hands.
She was a shining example of the love in 1 Cor. 13, a godly woman, a woman of faith and a prayer warrior. She read the Bible daily, and read Bible stories to her children every night before bed. She would say that she didn't do much with her life, but we say that she had a very rich legacy in that all her children and grandchildren know and love and serve the Lord.
Mom lived her life sacrificially, as a servant to others, always putting others ahead of herself, looking to see what she could do for others.
She was tiny, humble, loving and faithful but was also a very strong woman with tenacious resolve and mighty spiritual strength. She had a quick wit and a unique sense of humor. We all have funny stories to tell!
She played the piano for the church choir for many years and practiced her pieces at night serenading us to sleep. Later, she played piano at the nursing home every other Tuesday up to the age of 93.
She worked tirelessly for local and global missions: including canning for the Union Gospel Mission and sewing and selling quilts, with the proceeds going to mission efforts serving the poor around the world until her age and medical conditions no longer allowed.
She was kind, compassionate, loved to entertain company and share her good cooking and baking with friends. She enjoyed the beach, loved going to Mount Rainier and fall trips to pick huckleberries.
The family would like to thank all those health care providers who not only performed their job descriptions, but also gifted mom with their loving care in her last days.
Mom was preceded in death by her parents; her sister; and both brothers.
She is survived by her husband of 68 years, George; daughters, Georganne Seebeck, Bonnie Wilson and Sandra Liles; sons, Douglas (Gail) and Paul Seebeck; 12 grandchildren, three great-grandchildren; and one more due to arrive in June.
In lieu of flowers, Pearl requests memorial contributions be made to Partners Worldwide "to end poverty so that all may have life and have it abundantly."
Visitation will be held today, Jan. 7, 2014, from 4 to 6 p.m. at Valley Hills Funeral Home in Sunnyside. Funeral services will be held Wednesday, Jan. 8, 2013, at 11 a.m. at Valley Hills Funeral Home (former Christian Reformed Church), with burial to follow at Lower Valley Memorial Gardens in Sunnyside.
Online tributes can be left at www.valleyhillsfh.com.
Valley Hills Funeral Home in Sunnyside is in care of all arrangements.